Prof. Richard Wiseman - 'Make your own luck' [Video]
Last week's APM Project Management Conference was opened by one of Britain's best known psychologists; Professor Richard Wiseman.
In an entertaining, enlightening and informative presentation the magician-come-psychologist-come public speaker discussed the psychology of luck and the notion of how we make our own luck by our thinking and behaviour.
He said: "Being lucky means you see more opportunities in life – you can be more resilient and you can move forward with projects. That can then make a huge difference."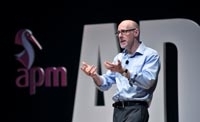 Richard Wiseman, who holds Britain's only Professorship in the Public Understanding of Psychology at the University of Hertfordshire, had some interesting theories on the importance of psychology in project management.
"Psychology is relevant to project management because it is about change primarily," he said.
"If you are going to change people you need to understand how their minds work. Otherwise you will be spending a lot of time doing something that is ineffective."
A full round up on the 2013 APM Conference will feature in July's issue of Project magazine.
Watch more interviews with the speakers from the APM Project Management Conference 2013.
#apmconf