Professionalism: at the heart of project success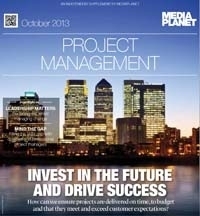 Todays economic pressures mean that professionalism in project and programme management is an absolute necessity. Recruiting appropriately qualified project and programme professionals helps reduce the risk of projects overrunning, exceeding their budgets or failing to deliver their intended benefits. A global survey by PriceWaterhouseCoopers (PWC) supports this theory. The report, Insights and Trends: Current Programme and Project Management Practices, concluded that 80% of projects classified as high-performing used a certified project manager.
Demonstrating project success
In government the creation of the Major Projects Authority (MPA) focused on improving project performance is already starting to pay dividends. According to Francis Maude, Minister for the Cabinet Office, progress to date has saved taxpayers 1.7 billion on major projects alone; the equivalent of 100 for each working household in the country. At the same time the MPA has transformed the record of project delivery so that now around two thirds of major government projects are expected to deliver on time and to budget, with that figure forecast to exceed 90% by 2015. Much of this success can be attributed to the work done to build capability in project and programme management, including the nomination of suitably qualified and experienced senior leaders. Only this month we saw the first cohort of leaders graduate from the Major Projects Leadership Academy, with over 300 more expected to have gained the requisite skills by next year.
Recruiting and developing competent project professionals
Boards have a responsibility to ensure that their organisations assess the competence of the project professionals they deploy. Fulfilling this responsibility has got easier over the last couple of years with the development of a universally-accepted UK professional standard by which project managers can demonstrate their skills, training and experience, together with their commitment to continued professional development and to a code of professional conduct. It really allows project management professionalism to earn its place at the heart of project success.
This article was the foreward that originally appeared in the Project Management' report published by Mediaplanet on Wednesday 23rd October 2013 in City A.M by Andrew Bragg, chief executive of Association for Project Management (APM).