Profile of a volunteer - Ann Pilkington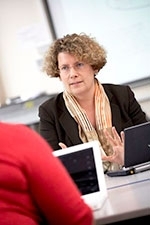 Name: Ann Pilkington
Membership grade: Associate
Volunteer role: People SIG, communication lead

1. Why did you decide to become a volunteer with APM?
I am a great believer in the role of communication in project success. I am a communicator rather than a project manager and I am on a bit of a mission to increase the understanding of what good communication looks like in a project context. I also feel that communicators, people working in PR and internal communication, can benefit greatly from an understanding of project methodology.
2. What benefits have you gained from being an APM volunteer?
Meeting some great people of course, getting involved in the APM Conference and other events which have helped to raise an awareness of the importance of good communication.
3. What would your top tip be to an APM member looking to become a volunteer?
You need to be ready to get involved and have the time available, although having said that in my experience the committee chair is very good at ensuring it isn't too onerous. Come ready with some ideas and think about what you can bring to the committee – what is your particular area of expertise?
Find out more about volunteer opportunities with APM.