Profile of a volunteer - Emma-Ruth Arnaz-Pemberton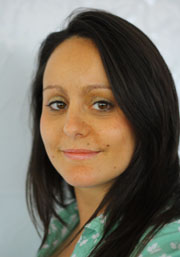 Name: Emma-Ruth Arnaz-Pemberton
Membership grade: MAPM
Volunteer role: APM PMO specific interest group (SIG) chair

1. Why did you decide to become a volunteer with APM?
After being introduced to the APM and the PMO SIG through a business partner I found that attending the local events and conferences as part of my CPD provided me with an opportunity to meet like-minded individuals and find out what the wider industry was like.
PMO as a discipline can be fairly complex in that it can mean many things to many people and I felt that I wanted to contribute to the future of the industry. So, I joined the PMO SIG as a committee member and haven't looked back since.
2. What benefits have you gained from being an APM volunteer?
The PMO SIG is founded on a wealth of experience from members that had been involved since before it became associated with APM. Over the years, I have gained a monstrous amount of knowledge and understanding about how the PMO industry has changed and what the future might hold.
Recently the PMO SIG were involved with the APM Competence Framework refresh. Working directly with the APM team has given me  a real insight into how APM works and how it is moving forward as an organisation in terms of qualifications and knowledge management.
One of the things that gives me great satisfaction is organising events for like-minded individuals. The PMO SIG strives to hold two conferences each year and a number of local events. The feedback from each of the events is reviewed by the committee to help the team come up with the next topic(s). I am a big believer in making networking fun so we always try to do things a little bit differently and brings some of the hard-hitting topics down to earth to 'humanise' them a little.
The biggest gain from being actively involved are the networking opportunities and the chance to really take some time to spend with people whom you can have a healthy debate with.
3. What would your top tip be to an APM member looking to become a volunteer?
Be honest with yourself about what you want to get out of it and with the SIG you want to join with the amount of time that you can give. Everyone has a life and it's ok to sometimes say no. It's true that you get out what you put into it.
Find out more about volunteer opportunities with APM.