Profile of a volunteer - Ian Cribbes
Name: Ian Cribbes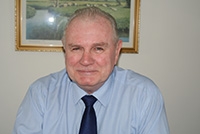 Membership grade: Member (MAPM)
Volunteer role: Member of the Focus Group within the Thames Valley Branch looking at Stakeholder Engagement

1. Why did you decide to become a volunteer with APM?
I was first introduced to the APM through the company I was working for at the time (BAE Systems). I found that the APM were, and continue to be, extremely supportive as I ventured into the realms of Project Management. My beliefs has always been to give back whenever the opportunity arises so when asked if I would consider joining the Oxford Branch (Thames Valley Chapter) in carrying out a study on stakeholder engagement I immediately agreed.
In my experience stakeholder engagement is fundamental to a successful project, however it is a skill that is not currently covered in any great depth. Stakeholder engagement is something that I am passionate about and the opportunity to address this issue was something I could not pass up.
2. What benefits have you gained from being an APM volunteer?
The focus group looking at stakeholder engagement has a wealth of knowledge and experience across many business organisations. This has added to my own knowledge and I continue to gain a great deal of satisfaction in assisting in the compilation of a series of resources that will assist those who are new to project management in what I consider to be an important skill.
As a group of like-minded people who meet on a monthly basis we work well together but are not hampered by the need for all to agree (management by committee) which often leads to healthy debate. Various areas of the study have been allocated to small groups with the focus group. Very early in our deliberations we agreed to expand our study beyond the UK and to make it truly International. We are well into the study and plan to have the first draft of our findings ready for review by the end of September, with the final version being ready by the end of the year (2014). This repository of resource will be available to all within the project management community worldwide.
3. What would your top tip be to an APM member looking to become a volunteer?
Get involved with your local Chapter / Branch. Ask yourself "what can I contribute and what, if anything do I expect from it". You will undoubtedly meet new people who will have the ability to add to your knowledge and experience, as you will to theirs.
Find out more about volunteer opportunities with APM.