Profile of a volunteer - Martin Taylor
Name: Martin Taylor
Membership grade: MAPM
Volunteer role: Chair of Enabling Change SIG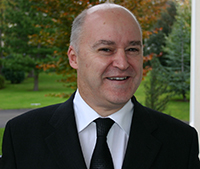 1. Why did you decide to become a volunteer for APM?
When looking at the existing SIGs, I thought there was a need for a group focused on change so I put the idea forward, established a committed team and we achieved approval from the board in January. Delivering change effectively can make a huge difference to the success of APM.

2. What benefits have you gained from being an APM volunteer?
I have met many committed, enthusiastic people and established new relationships. I understand more about how APM operates and appreciate the hard work that goes into volunteering.

3. What would be your top tip to an APM member looking to become a volunteer?
Be passionate about the area in which you want to become involved and think about what specific practical things you can do to make a difference.
If you're a volunteer of APM and would like your profile to appear in Network magazine, please email: marketing@apm.org.uk
Find out more about volunteer opportunities.