Programme Management Newsletter - Autumn 2014
---
Welcome to the Autumn edition of ProgM SIG newsletter which goes out to our 3,500+ members. We have recently updated our contribution to the APM Guide to SIGs [there are 14] and restated our mission To provide a forum for effective learning and development that promotes the science, discipline, tools and techniques of programme management. This newsletter directly supports our mission statement.
Merv Wyeth
In September 2014 PWC published its annual survey based more than 3,000 responses from project management professionals in more than 100 countries PWC 4th global portfolio and management survey under the title of: When will you think differently about programme delivery?
The underlying question was: Do people who commission change get what they want?

Key findings included:
CEOs believe that keeping up with rapid change is one of their most demanding challenges: In times of rapid change there is a cost to standing still. New and innovative ways of delivering strategic outcomes are needed to lead and deliver change programmes faster and more reliably.
Some familiar issues have not changed in over 10 years such as the way programmes are delivered, the issues faced and the results achieved. As well as doing the basics more effectively, executive teams and programme managers need to act now to improve results and learn from lessons of the past.
The global PPM survey illustrates that there is often a disconnect between the executive team and programme managers: The data suggests that engagement is often superficial, and an opportunity exists for programme managers and executive teams to connect better and play a bigger role in leading and delivering their services.
The conclusion of the PWC report is that It is time to take a different approach to delivering effective programmes that help organisations cope with the rapidly changing world. We will pick up this theme in the next quarter and as part of our 2015/16 business plan which is currently in draft.
The newsletter comprises a short introduction to a new International Standard for Programme Management [ISO 21504] and describes how you can participate in shaping that document but time is short!
Next we provide information about government and major projects and programmes and how their chances of success can be improved. We look back at ProgM flagship May event with speaker Richard Bacon, MP of the Public Accounts Committee [PAC] and anticipate an upcoming webinar with Tim Banfield from the Major Project Authority on 20th November.
The golden thread that knits this altogether is strategy and I refer here to Phil Drivers work on OpenStrategies - common sense yes, but common execution probably not! APM Chairman Steve Wake recently referred to this as the glue that joins together project budgets and portfolio benefits and in other words - represents the project management Holy Grail.
Working differently includes new approaches to; communication from Mark Philips, agile working and online collaboration - including changing the way that our committee is working.
---
Programme management (ISO21504)
ProgM SIG have been invited to comment on the working draft of the ISO Standard for Programme Management - ISO 21504. [A standard already exists for project management and another is in the pipeline for portfolio management]
The standard includes a number of definitions as follows:
Programme: A group of interrelated programme components managed in a coordinated way to realize benefits
Programme management: Co-ordinated activities to direct and control the achievement of programme objectives
Programme benefit: An assessable outcome viewed as an advantage by key stakeholders that usually contributes to strategic
Does this accord with your own definition? The draft standard can be found here. You will note that each line is separately numbered from 1 to 500. Comments need to be in a prescribed form and reference the particular line item. To leave comments click here. You can identify yourself by email address if you would like to discuss your suggestion with us!
You should note that time is very short and if we are to deal with your comments and thoughts will need to receive them no later than 4th November.
---
Peeling back the covers on government programmes
Richard Bacon MP for South Norfolk and author of Conundrum: Why every government gets things wrong and what we can do about it was the guest speaker at a highly entertaining and informative ProgM event held in Central London in June.

The video is available courtesy of PM Channel as well as Richards presentation.

Securing Richards attendance was a coup for ProgM. Merv Wyeth (ProgM Chair) confessed that the evening represented the culmination of months of stalking and some mild harassment to ensure the committee got their man.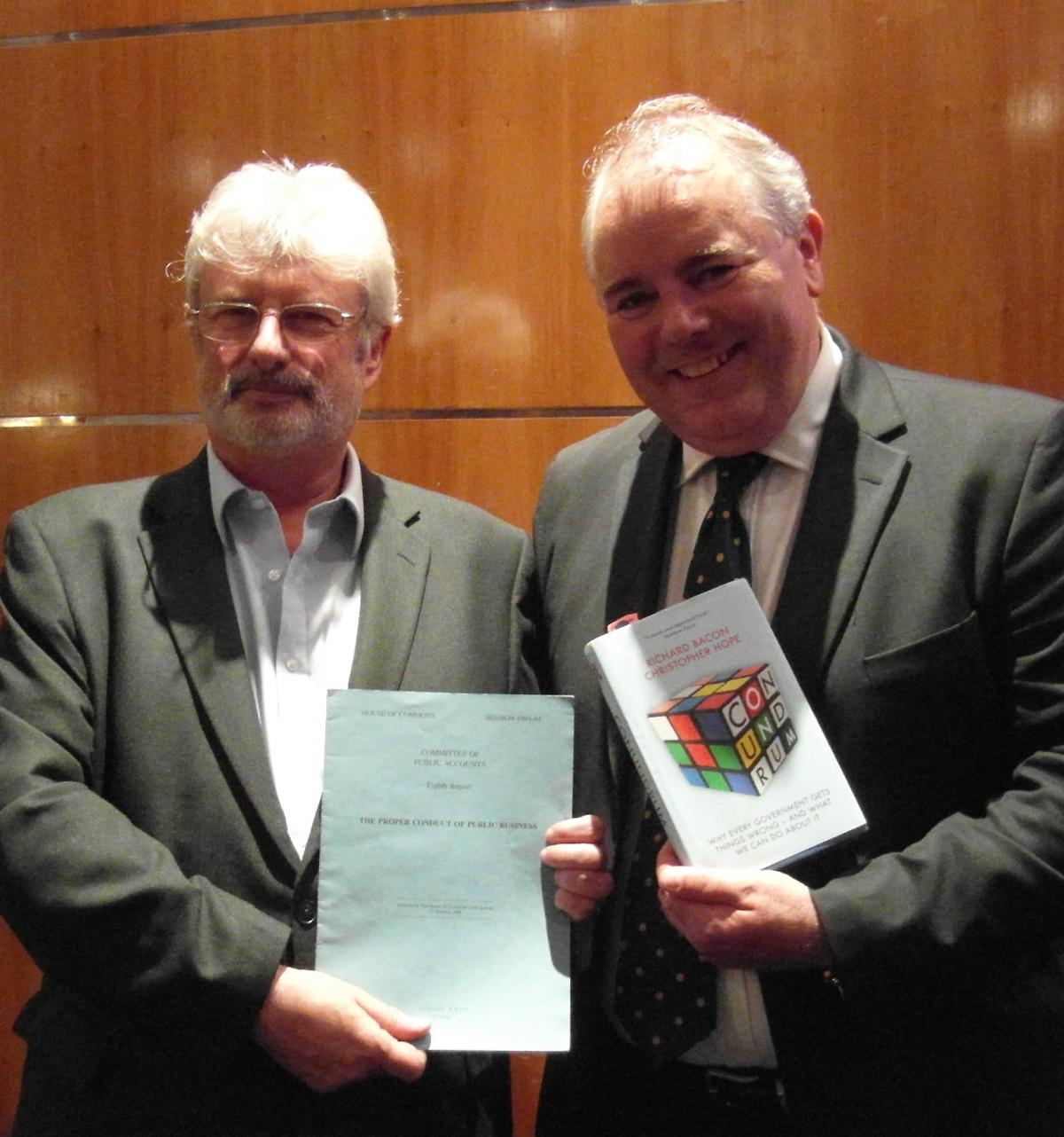 Steve Wake, Chairman of APM , introduced the evening with a personal story about the seminal Committee of Public Accounts, Eighth Report The Proper Conduct of Public Business, that had started him out on the road of earned value. This set the context for Richard to explain what, if anything, had changed in twenty years!

Lets get back to basics could have easily been the theme for Richards talk. The same elementary mistakes delivering programmes and projects are being made time and time again at the cost of billions of pounds to the unsuspecting taxpayer.

Richard did not pull his punches and reminded us of the same old horror stories:
1) Unclear project objectives
2) Shifting project objectives
3) Inadequate project skills / experience
4) Unrealistic timescales
5) A revolving door policy for SROs
6) Lack of awareness of respective roles
7) Poor accountability; and the list goes on..
Fifteen or so years ago the UK Government introduced the Gateway Review Scheme to raise the bar for programme and project delivery. The recent examples cited by Richard suggest we still have a long way to go before we can claim tangible progress in learning from and banishing the common causes of project and programme failure.

An experienced and very wise project sponsor once said to me many years ago:

Put the PRINCE2 manual to one side and follow the ABC approach

Whats that? I asked bemused.

It is the approach every sponsor and project manager should apply:
Accept nothing
Believe nobody
Challenge and check everything"
So maybe those of us privileged to, have been, or are currently engaged, in delivering projects for the government, need to be a little more assertive and questioning and not allow the whirlwind of delivery to take a grip before we truly understand what exactly needs doing.
---
Tim Banfield, Strategy Director for the Major Projects Authority, writing in the Project Magazine August edition (Right Projects, Done Right) outlined MPAs strategic vision to improve the delivery of major projects within the public sector. More than half [100] of the Government Major Projects Portfolio [GMPP] are transformation-focused projects, with many having a significant IT component.
It is no coincidence that ProgM have picked up on this theme of linking strategy at the executive [policy making] level with effective programme delivery. One of the key themes in the PWC 4th Global Portfolio and Programme Management Survey (Sept 2014)
Phil Driver, speaking from New Zealand, in a recent APM webinar entitled Validating Strategies boils it all down to the following statement the pivotal role of organisations, private or public [including government], is to create assets or results, that are of a type, that enable people to use them to create benefits. In short strategy is delivered using the PRUB methodology - projects create results that customers and communities use to create benefits.
Better use of taxpayers money, and more successful policy implementation, rely on appreciating this fundamental benefits logic or value chain. Stephen Jenner [Managing Benefits] talks about starting with the end in mind.
So, whilst Tim Banfield in his article describes the importance of the Project Validation Review (PVR) and work up front through; the early clarification of objectives; implementation plans, alignment of interests and resources required as part of up-front loading is all well and good, ultimately it is users [includes customer and consumer] that create benefits and determine whether or not a programme is successful.
Tim will be joining us for a lunchtime webinar entitled What we are doing to help departments improve project execution on 20th November. It is recommended that you book your place now.
---
Because projects involve people, effective communication is crucial to project success and the avoidance of delay, cost over-run and other types of failure.
But communication can be a constant bugbear for project managers. How much? When? What to say? How to avoid being either ignored or misunderstood? If only there was a process that we could follow to make things better!
Mark Philips led a webinar for us over the summer at which he proposed just such a process.
Establishing a common language between stakeholders, sending out communications at a time when they are more likely to be read and actively encouraging and listening to feedback from recipients are crucial considerations. Matching the shape of the communication process to the way that the project team and organisation are laid out is also important - one size most definitely does not fit all.
Mark finished with a discussion about project complexity. Recent research has suggested that problems can be broken down into 3 separate categories:
1. Tame - First order problem requiring the knowledge of a single subject matter expert. Problem is understood outcome is predictable.
2. Messy - Numerous systems involved, requiring input from multiple stakeholders. With collaboration the problem is understandable and the outcome can be predicted.
3. Wicked - Problems that emanate from people. Outcomes and solutions are not knowable upfront because people are unpredictable.
Is there a process that can be followed that guarantees communication success? Im not sure, but I am sure that there is definitely a wrong way of approaching it! Any systematic approach that gives us a few more tools to avoid the pitfalls and be more successful has got to be a good thing.



By Colin Parker
---
Agile project management - everything you wanted to know but were too afraid to ask
Provocation: Agile project management does not exist.
This is not a new message from me. My contention has been that anyone claiming a new project management method has to show clear blue water between it and other, existing methods.
The DSDM Consortium are amongst those who have come closest. And they have not proclaimed new Agile PM, but adaptation (e.g. of PRINCE/2) to agile software development projects. Lots of gold stars to the DSDM Consortium.
However it was while chairing a conference which included Steve Messenger, Chair of the DSDM Consortium, that made me realise that I have been wrong.
Revelation: There is lots of agile project management.
Steve Messenger stated that agile is a state of mind and this coalesced a number of ideas I had already been thinking about. Good project professionals are agile by their very nature and behaviours. They are output/customer focussed, flexible, self-organising, they embrace change. These are characteristics straight out of the Agile Manifesto (2001).
So, the answer is not to develop agile project management methods, but to develop project professionals who are then, agile. That is you taken care of, but how to make an agile project organisation?
This is where organisational project management comes in, and is much harder than the you bit as it requires organisational culture change.
The key steps to developing an agile project organisation for this are:
1. Understand what an agile project organisation looks like
2. Understand the existing organisation culture(s)
3. Sell the value of being an agile project organisation
4. Create a change programme to evolve and agile project organisation
5. Sustain that change programme
To achieve this I recommend reviewing my 'tactics for change' slides and paper.
This article supports my presentation to South Wales and West of England APM branch event on 9th September 2014.
By Adrian Pyne
---
Improving benefit delivery [value destruction]
Matt Williams, author of a recent white paper on Benefits-led decision making presented at a co-hosted (between the Benefits, Value & Programme Management SIGs) event in London in September.
Matts presentation was on Value Destruction and why most projects fail to realise the benefits used to make the business case for change, and also how to address the problem. Whilst benefits management is not a new concept it was recognised by all that the importance attached to it has certainly increased over the recent years. So, why now:



Uncertain economic times
Shrinking budgets
Demanding customers
Globalisation
Earlier in the day a smaller number had attended a workshop with Matt where the delegates identified the common themes in why benefits and value isnt realised, or maximised, following project/programme delivery. The groups then voted on the top three barriers which, quite neatly, mapped firmly to Matts own views on this.
Value exaggeration - overly optimistic and/or unrealistic benefits stated in the planning phase
Value destruction - delays in project/programme delivery and/or decisions made during delivery that dont consider the impact to the overall benefit profile
Value decay - not properly transferring the benefits to business as usual and/or not monitoring the benefits are truly being realised once the project/programme moves off
In order to counter these all too common problems Matts high-level recommendation, to maximise the value from project/programme delivery, was to initially focus on People (having both the right organisational structure - such as the creation of a Value Management Office to work alongside a PMO - and the right mindset), then Process (a consistent approach taken to benefits/value management across all projects/programmes) before considering Tools (ones appropriate for both the size and maturity of the organisation).
Matt is the Managing Director of Connexion Systems, a results-driven organisation that provides innovative systems for organisations to deliver business outcomes consistent with corporate strategy.
Australian clients include NSW Health, Federal Treasury, Boeing, Brisbane City Council. Matt has 15 years of experience in the development and deployment of project management systems, and over the past 3 years he has focused on how organisations can realise the maximum business value from project investments.


By Paul Yeomans
---
How we produced this newsletter
Putting together a SIG newsletter can be a logistical nightmare. Not only do we have to remember what to do and whos doing it but we also have to find a way to draw contributions together into some sort of coherent whole. Traditionally this process involves many many chase-up emails/phone calls/texts and the bombardment of the poor editor with content in a variety of formats and styles.
Before we prepared this newsletter we sat down and asked ourselves the question could we make this process easier? We concluded that we could and here is the journey that we embarked upon.
The process as described presents two problems. The first is the classic herding cats problem, the other can be characterised as the working on one jigsaw whilst being in different places problem.
For the first problem we decided to try using a Kanban board to provide a visual representation of both the size of the problem and our progress in tackling.
We adopted the Kanban board functionality from ProjectPlace with different columns for; topic, author, draft and final.
Having looked at the jigsaw conundrum we settled on a Google-Apps Drive Document shared amongst all collaborators.
How it works we know not, but it does and it allows us all to work on a single document at the same time. Very clever.
We were able to link the Kanban Board to the document using a MASTER DOCUMENT Card which contained a link to the document.
At the end we are able to pass the completed document to our friends at Ibis House to weave their own blend of magic!
As we barrel toward completion on the newsletter what have we learned? Firstly, Kanban Boards are a brilliant way of controlling and structuring a delivery whether it be agile or otherwise. Theres something about the visual presentation that just works. And secondly, if you are all collaborating on the same jigsaw find some clever technology to enable you to work on it together rather than separately. Do it once, do it well!
For more on using Kanban Boards and ProjectPlace check out this webinar.



By Colin Parker
---
In this Autumn [Q3] period ProgM SIG are planning two further events with a number of initiatives in the pipeline for the new year. Our ambitious business plan for 2015/16 will build on the theme of the recent PWC report of When will we think differently about programme delivery?