Project experts back more collaboration, less command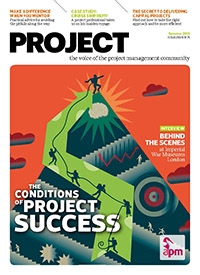 Project teams are turning their backs on the traditional 'control and command' structure in favour of a more collaborative and open approach to managing projects.
That was one of the views expressed at a recent Project magazine roundtable event, held at Deloitte's offices in London.
The collaboration and control discussion – sponsored by Projectplace – brought together a panel of experts from a range of leading project organisations including EC Harris, T-Systems and Network Rail.
Asked for their thoughts on sharing information freely but securely, delegate Paul Loucas, from BDL Group, told Project: "If you're not collaborative, if you're not disclosing as much as you can disclose, you just lose the trust element.
"Then you don't work as a partnership and it turns into 'command and control'. You need to be open, honest and straight with each other. That trust really frees people up."
He added that in recent years there has been a marked shift in behaviour and attitude, as the latest generation of project manager moves more towards "collaborative control".
According to John Pelton from Crossrail, who spoke at the APM Conference in March, this approach also extends to client relations. He said: "There's actually remarkably little that cannot be shared in an open and honest way with clients.
"The problem is the perception that you need to keep back a lot more. It can become a poisonous perception and I'm of the view that the more you can encourage people to open up, the better."
The desire to collaborate more effectively – and efficiently – has also coincided with the growing influence of agile project management. In the last three years attendees reported seeing a move away from the traditional waterfall approach, towards the agile world of project management.
Deloitte's Richard Gladman remarked: "The intensity of projects gets greater every year. A few years ago you'd have team get-togethers to work out if you're on track on a pretty frequent basis, but we're now driving that twice a day.
"So the time scales are being compressed. I think that agile has made quite a big difference."
Others agreed that because agile conducts a project differently – placing an emphasis on people over process – it lends itself to a more collaborative approach.
The full report can be read in the summer 2015 edition of Project, which is published on 1 June.