Project management leadership - how to improve your performance and wellbeing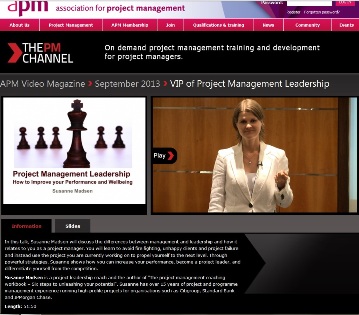 At a recent London branch event Susanne Madsen discussed the differences between management and leadership and how it relates to you as a project manager. She explained how to avoid fire fighting, unhappy clients and project failure and instead use the project you are currently working on to propel yourself to the next level. Through powerful strategies, Susanne showed how you can increase your performance, become a project leader, and differentiate yourself from the competition.
Susanne believes that a great project management leader is first and foremost able to manage his or her own state of mind and that project management success is as much about leading people as it is about managing tasks, events and processes. She helps people look inwards and become a better leader; someone who sets a great personal example, who is excellent at challenging the status quo, who inspires the team to follow and who focuses on the 20% of the activities that contribute to 80% of their results.
An event extremely well received by the London branch delegates who were enthralled by her interpersonal skills and ability to show others some important tips to build on their success in project management. For those of you who were not able to see Susanne's presentation should click on this  which will take them to the new APM and PM Channel Video magazine where her presentation can be seen by clicking on the right hand column titled 'VIP of Project Management'.