Raconteur's special report out in The Times this Thursday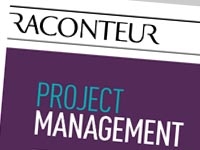 APM will once again feature in Raconteur's 16-page special report on project management that will be published in The Times this Thursday 11th September*.
This will be the second successive year APM has appeared in the report. In last year's article former APM chairman Mike Nichols explained the idea behind the association's ambitious vision of creating a world in which all projects succeed.
Given the ever growing importance of project based work trends in all industries, this report is the premier publication on how best practice and operational efficiency can drive individual project successes.
APM will cover how employers in a variety of sectors can attract, retain and develop project management talent as they face growing competition for the best project professionals.
Through leading analysis from industry journalists and commentary by the industry's most prominent business leaders, this report will bring together the voices of those who understand how best to use technology, people and process to streamline projects of all sizes and sectors.
Reaching 1.26 million readers the report will also uncover the opportunities, challenges and considerations for business leaders making organisation-wide decisions.
This will be the second national press report that APM has featured in this year. APM appeared in the second instalment of the Business Reporter's project management report published in the Sunday Telegraph in April.
Don't forget to pick up your copy of the report on Thursday 11th September* that will provide a blueprint for business leaders from all sectors, as well as encouraging a paradigm shift to a more effective, streamlined and adaptable work practice at all levels of the project team.
*Publication date and editorial subject to change.