Record numbers take advantage of earn-while-you-learn apprenticeship programmes
Popular APM Higher Apprenticeship in Project Management programme has attracted 744 star candidates since its inception.
Deciding on a career path can be daunting and costs of university degrees even more so, which is why apprenticeships are currently in such high demand. Successful project delivery is essential to all organisations and project management is currently a growing profession with excellent career prospects in diverse sectors. For those looking to find a way into a career in project management, especially school-leavers and students, APM and Skills CFA have developed a Higher Apprenticeship in Project Management. 
The qualification was launched in September 2012 and has so far had 744 registered candidates. It allows young adults to develop key skills essential for the delivery of projects, including risk management, relationship management and project leadership. The apprenticeship typically takes two years to complete and the nationally recognised qualification is equivalent to the first year of university. The course is extremely popular as apprentices earn while they learn. Companies offering apprenticeships are committed to the nurturing of skills and provision of career development in their candidates.
An apprentice may then become an Associate member of the APM where they can progress to earn further APM qualifications, such as APM's Practitioner Qualification, and aim towards achieving the designation of APM Registered Project Professional.
National Apprenticeship Week 2016 (14-18 March) is a fitting time to celebrate the success of one particular higher apprentice who has been through the APM Higher Apprentice in Project Management program and who embodies what the apprenticeship scheme is all about.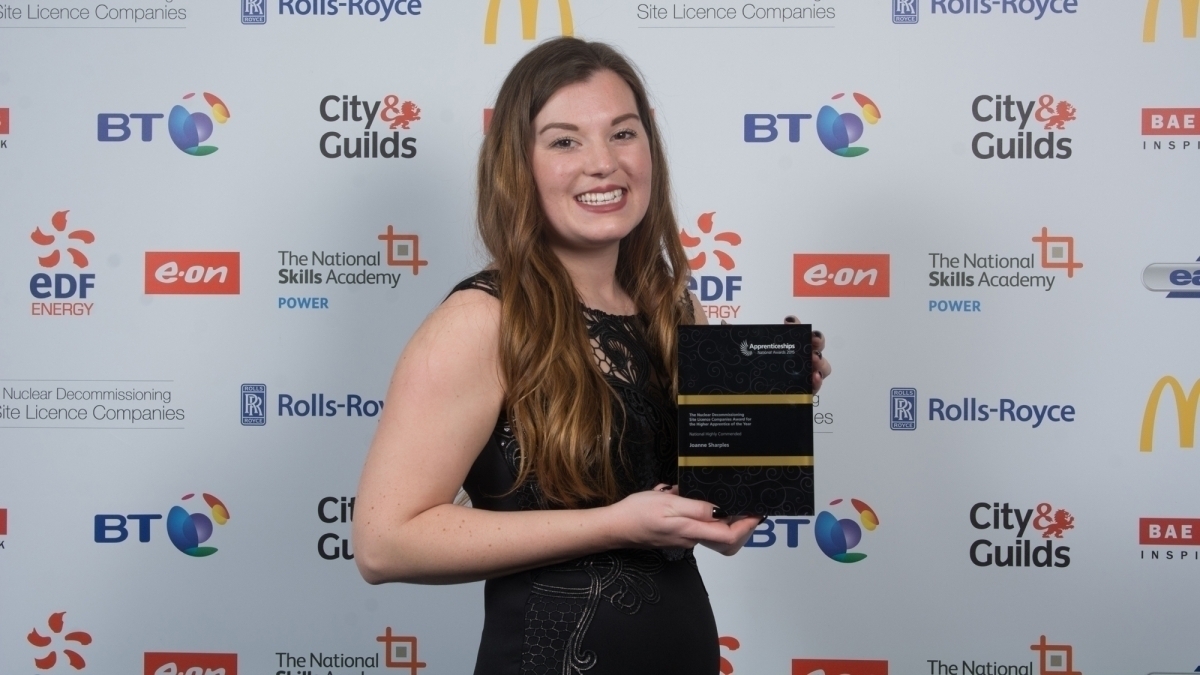 Apprentice project manager and engineer Joanne Sharples was recently recognised as an advocate and role model for women in engineering and was named the UK's Higher Apprentice of the Year (sponsored by Rolls Royce) at the Semta Skills Awards gala dinner in London.
Joanne achieved her EAL Level 4 Diploma in Project Management, has since completed her apprenticeship and is working towards her Honours degree. She works in a project management role for BAE Systems' Military Air and Information business where her training has so far involved work on complex engineering projects such as the F-35 Lightning II and the Eurofighter Typhoon.
Ann Watson, CEO of Semta, the not-for-profit organisation tasked with skilling engineering and manufacturing in the UK said: "Joanne is a very deserving winner of the Semta Skills Award and an inspirational role model for others."
"Her drive and determination is commendable and she is playing a significant role, not only as a Project Manager but also as an advocate for female engineers within BAE Systems and beyond."
Joanne demonstrated her project management skills and played a key role in promoting STEM skills among young women locally by inviting schoolgirls on site to inspire and inform them about careers in engineering. As a result 18% of the new apprentices at BAE the following year were female, as opposed to the national average of 5%.
Nigel Whitehead, group managing director, Programmes and Support at BAE said in an interview with a local Lancashire paper when she was shortlisted: "I am thrilled that Joanne Sharples has been shortlisted for the Higher Apprentice award. Her success highlights the exciting career potential for bright, keen and talented individuals with an appetite to learn."
National Apprenticeship Week 2016 is co-ordinated by the National Apprenticeship Service and is designed to celebrate apprenticeships and the positive impact they have on individuals, businesses and the wider economy. Apprentices get to work alongside experienced staff, gain job-specific skills, earn a wage and get holiday pay and at the same time study towards their nationally recognised qualification.
Candidates interested in gaining valuable transferable skills in project management, and who join the Higher Apprenticeship in Project Management program will work towards a diploma in project management (QCF level 4) awarded by EAL.
The Diploma in Project Management has been developed in partnership with a wide range of pan sector employers and providers. It is based on the APM Body of Knowledge 6th edition, the APM Competence Framework and mapped to the project management National Occupational Standards (NOS).