Risk 1066 - The Battle of Hastings
JOINT BRANCH MEETING ENDS IN VIOLENCE AND DEATH

It all started so well with a welcome from the Chair of Thames Valley Branch and the 40th Anniversary of APM celebrated with a tasteful blue-on-white cake cut by the Chair of Wessex Branch!

Then Stephen Carver, pin-striped and positively glowing, stepped forward to deliver his highly successful (well all projects succeed) and engaging talk, or better entertainment, Risk 1066 The Battle of Hastings at dusk on 10th September 2012. One of the 68 members present posed in chain mail and helmet and parried Stephens spear thrusts by way of an introduction to the theme. The real moments of violence and, it must be said, applause, were saved for the deaths of the Danish usurper and North/South divider Hardrada at Stamford Bridge, then of our Saxon (or was he?) King Harold at the hands of the Norse (or was he?) Duke of Normandy alias William the bastard.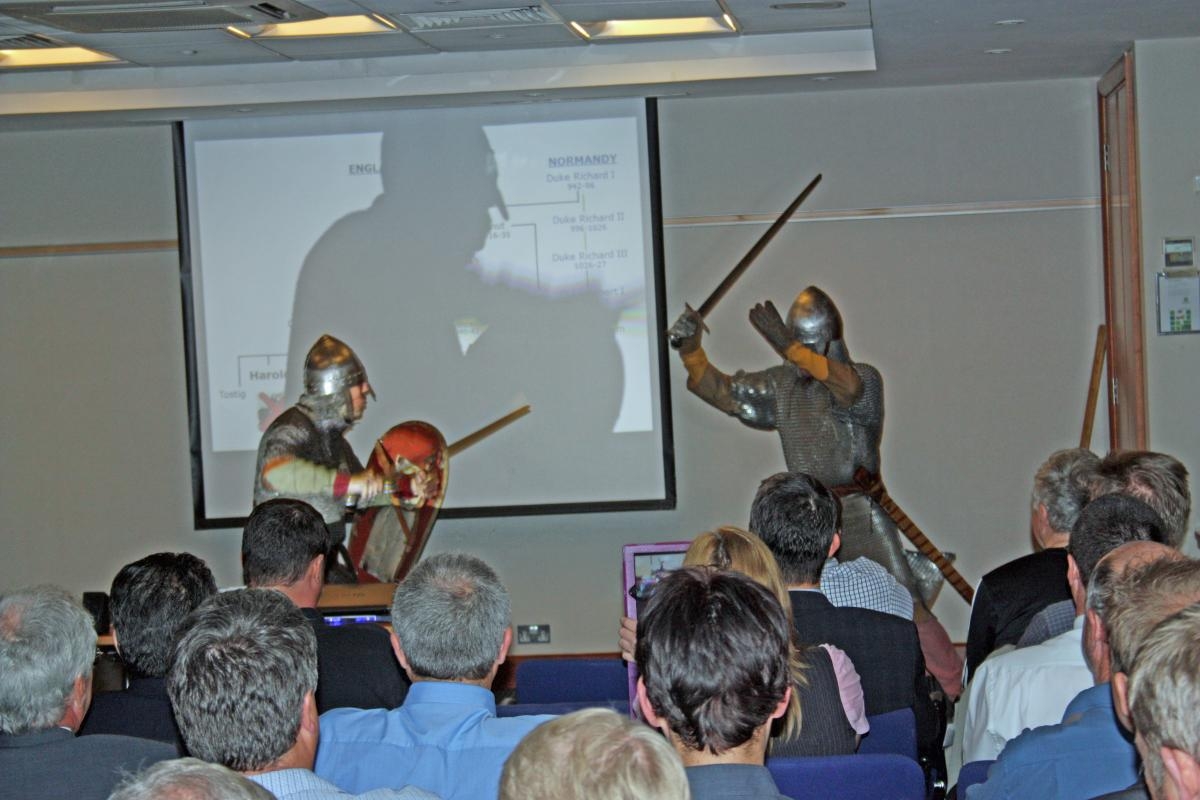 The costume violence was real enough in the hands of the Regia Anglorum trio gearing up for the massive re-enactment on 14/15 October. History in Year 9 was never this good but why was this performance happening before our project managers wide open eyes?

Waxing lyrical like a Saxon on mead Stephen, hotfooting from the Cranfield School of Management, outlined the three approaches to management and leadership, namely Hardrada, Harold and William obviously!!!
Hardrada: Hard-core, adventurous, chaotic, scheming, going for it but in the end relying on luck to deliver a kingdom

Harold: A man of hearts and minds, a stakeholder manager, a popular organised effective ruler with an efficient army that proved itself in a fast decisive battle after a four day march from London to Stamford Bridge

William: Ultimately the conqueror but with a chip on his shoulder, proactive, a man who took planning to the nth degree but who observed the ebb and flow of the long days fighting (lessons learnt) and then took his calculated chance with a few chosen men on a decent bonus to see the battle of Battle (or was it) through. An achiever, but never Mr Popular, he continued to do things his way with kit castles (how very Nordic) and of course, his post Doomsday (or was it his) taxation.
In summary, a thought-provoking and memorable evening to thoroughly recommend. Now who had the last piece of that cake and are you Hardrada, Harold or William?