One can never remove all risk from a project, but Stuart Johnson explains how you can minimise it as much as possible.
All projects experience risk and require their own measures to overcome it. Yet complex, design-led construction projects – with signature architects and demanding briefs – need special consideration over risks to delivery.
Having recently delivered a £75m research centre for University College London (UCL), which was funded through donations from David Sainsbury's Gatsby Charitable Foundation and The Wellcome Trust, I have found myself thinking about the major lessons learned from the project.
From the outset of a project, risk needs to be identified, managed and minimised. Trying to dump the risk on any one stakeholder won't work. For instance, a contractor will charge a premium for accepting uncertainty, and this might be poor value for money if the risk isn't quantified. 
Even if a stakeholder fails to price the risk, the project might well suffer at a later stage if the risk holder falters. Risk should be embraced and not ignored. Identify it early, manage it, minimise it and then allocate it.
Robustness
Some projects progress without time being taken to establish a clear, comprehensive brief. This first step is the foundation for any project. How can a project be delivered successfully if the team doesn't know what the client expects? 
For the research centre, the brief was more than 40 pages long and picked up lessons learned from earlier jobs.
A good brief teases out the project scope, budget, deadline and any governance issues. Sometimes clients bring woolly thinking or conflicting demands (none of mine, needless to say), and project managers might find it easier not to confront these, but this is a mistake that will derail the project later.
A robust approach acts as a springboard for the appointed team to develop a reliable feasibility study. Supplementing the brief with a soundbite can sum up a project's ethos and help share the vision. 'A world-class building for world-class science in a world-class location' is one such phrase that I remember served well on another scheme.
Teamwork
Time needs to be taken to identify the right team. However tempting it might be to gravitate towards people (and firms) we know, and who have performed well on other projects, no one is a good fit for every job.
Selection can be by negotiation, or running a competition, and it is important to follow best practice in order to avoid wasting bidders' time and driving industry costs up. For instance, the Royal Institute of British Architects publishes useful guidance on selecting an architect, and even offers a competition service. 
It is not good practice to seek detailed concepts from too many firms. Remember that all designers can design; so think about selecting them on the marginal issues that make all the difference to successful delivery, such as how well an architect understands the site constraints, or how an engineer can collaborate in developing the brief.
Often there is everything to play for in the selection process, as sometimes consultants misjudge a client's priorities – while others step up and prove themselves. Rigorous selection pays dividends, as a single sub-par team member can disrupt performance of the whole team.
Project managers sometimes focus on process and neglect the soft skills. But don't underestimate the importance of establishing and maintaining a culture in which goodwill, clear communication and commitment prevails. 
It could be worthwhile to create a governance structure that contains a hierarchy of meetings, including a series of workshops in which the team, users and the client brainstorm, refine options and sign-off stage by stage. I find that best results can be obtained by facilitating good people to do good work and managing by exception. This approach allows project managers to see the wood for the trees and target efforts where it really helps.
Clarity
Risk can also be less tangible. Care needs to be taken to manage how the project is perceived by third parties. A natural suspicion of the new can often be overcome with fuller and earlier information than neighbours and other stakeholders were expecting. Fears might be groundless, but neglecting them can be disruptive, with planning objections or freedom of information requests acting as proxies for misapprehension about change generally.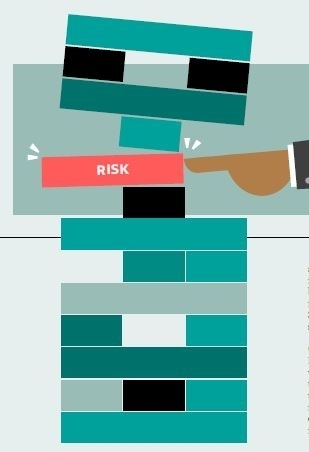 It is often the case that surveys and investigations form part of the building works contract. This is far from ideal, as early clarification of unknowns allows much greater cost and time certainty.
De-risking through pre-construction surveys and an enabling works contract reduces risk and allows firm pricing by contractors. On one recent project, detailed asbestos surveys of an obsolete building on-site identified the need for specialist removal, which was undertaken as a separate enabling works contract during the design stage.
All too often, essential investigations are ignored or deferred and end up impacting on the critical path to building delivery. There is no point bemoaning the presence of asbestos uncovered during construction if no surveys were undertaken beforehand.
Design development always throws up conflicts, perhaps between capital and running costs, internal environmental control and sustainability, or one user's needs and another's. 
Steering the team through to a resolution needs shared aspirations and understanding. Meetings and workshops are essential, but do not forget case-study visits and even unstructured time for team members to bond – many a breakthrough has happened over coffee.
For UCL's research centre, two key prototypes were built off-site during the design stage, one comprising a full structural bay of a laboratory complete with service installations, finishes and furniture; and the other the faade built to a full storey in height. The mock-ups were invaluable in fine tuning the design and acting as a quality benchmark. Subcontractors were shown the prototypes to reinforce the specification and drawings.
Control
Keeping in mind time, cost and performance with each decision will keep things on track. A change-control system, properly used, is a wonderful tool. It goes without saying that sticking to the budget and demonstrating early cost certainty are hugely important. However, 'cheap' is not a virtue in its own right – delivering the wrong thing at the wrong time, but cheaply, is a failure.
Procuring building work is an art as much as a process. Taking matters from first principles and arriving at a solution that best fits the unique circumstances of each job is key. Process is vital, but only when channelled appropriately. 
For the research centre, we agreed on traditional two-stage procurement with novation of the design team to the contractor for the construction period. This enabled completion and coordination of design to ensure client control of performance, but with transfer of responsibility for incorporation of shop-drawing information to the constructor. This resulted in easily understandable lines of communication and responsibility during the build period, and no fuzzy edges, which can lead to disputes.
Yet, even with the best-laid plans, there will still be bumps along the road. This is where contingency sums, float periods and options to reduce scope can all come into play. I always have a plan B. Options allow rigorous negotiations when the need arises and add credibility – and having a plan B means it's less likely to be used.
Top risk-mitigation measures
Do not try to dump risk - it won't work
Get the brief right - know what you want to achieve
Get the team right - it is as strong as its weakest link
Good people do good work; share the vision and treat them with respect
Manage external communications; third parties count, too
Use surveys and prototypes to de-risk the project early
Cheap is not necessarily a virtue; seek best value
If all else fails, have a plan B
Sutart Johnson was project sponsor for the recently completed Charlotte Street Research Centre.