Royal School of Military Engineering awarded accreditation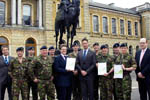 The Royal School of Military Engineering (RSME) was awarded with their APM Accredited Training Provider certificate at a public presentation by Andrew Bragg, APM chief executive (pictured right). The RSME is now accredited to deliver APM courses.
Lessons from Operation Herrick, the codename under which all British operations in Afghanistan have been conducted since 2002, have demonstrated a clear requirement for project management training at all levels. In response, the RSME has developed new through-career training and aligned these courses with the APM to ensure that the training is world-class while also providing an opportunity to gain internationally recognised professional qualifications.
The RSME aims to make project management a core-skill and a new basic for the Royal Engineers. As the first APM accredited training provider across Defence the RSME is at the forefront of project management training, bringing greater professionalism to the Corps and ensuring that our soldiers are better trained for operations.
The RSME recently appeared on TV during a Channel 4 Time Team Special on 'The Somme's Secret Weapon'. Filmed in Northern France and at RSME Chatham, the programme covered the excavation and rebuilding of a replica Livens Projector by Phase 2 soldiers at 1 RSME as part of a Battlefield Tour and trade training.
It evokes memories of the frontline on the Somme battlefield on 1 July 1916, where a small metal nozzle pushed its way up through the ground in No Man's Land to point at the German front line. On the signal, a terrifying stream of burning oil shot out of the nozzle, fatally drenching the German trenches in flaming diesel.
It was the day the British Army launched an all-out assault in northern France. Along the 16-mile front, tens of thousands of soldiers died and the only ground that the British forces captured was around the village of Mametz, where historian Peter Barton believes that a top-secret and terrible weapon, known as a Livens Flame Projector, was deployed. Although there are plans and secret war diaries, not one piece of this weapon exists in any museum in the world. Time Team conducted a dig near Mametz to find out whether or not this weapon really was deployed and, if so, whether it really worked in the way that was described. During the programme and by employing the skills of the Royal Engineers, a replica Livens Projector fired up for one last, terrifying time.