RPP roadshows successfully tour Great Britain
Over 300 people turned up to hear all about the new pan-sector standard at the recent RPP roadshows. There were packed houses in six locations around Great Britain with Bristol, Warrington and London all selling out to delegates wanting to learn about the professional designation for those who show responsible leadership in a complex project environment. The level of interest in APM Registered Project Professional (RPP) was clear to see with impressive numbers of people turning up to hear either Julie Legge, Head of Membership at APM or John Zachar FAPM, APM Product Development Manager, explain the application process and the level of support in achieving admittance to the coveted APM Register of Project Professionals. The project management industrys new professional standard will no doubt be very sought after with over 77% of the delegates looking to apply for RPP following these popular events.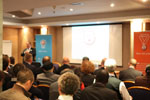 Dayner Proudfoot, PR and Marketing Manager at APM said: We all knew that RPP was going to make an impact on the industry, which is why it was vital to hold these roadshows. But, the underlying success of the events was having those who have been through the process and successfully gain the designation stand up and give vital first-hand experience. Theres nothing better than hearing from someone who has been there and done it.
These helpful individuals are known as RPP Champions. They were on hand at the events to help with peoples questions and offer guidance. The best way to speak to an RPP Champion is to attend an APM branch or SIG event. At a recent APM North West branch event Graham Woodward, avidly supported by Paul Mair, spoke about RPP, as well as CPD and the benefits of being a member of APM. Graham did emphasise that this new and exciting direction for APM was not a walk in the park and would require some detailed preparation to ensure success in gaining admittance to the register. This was further reiterated by Paul who gave an account on why RPP was the chosen direction and his experience of achieving the high standard of APM Registered Project Professional. RPP Champions are also flying the flag within their corporate organisations to ensure people know all they need about the professions new badge of honour. Erik Johannsen, Head of Project Management UK at BAE Systems said: RPP is a clear demonstration of capability and experience and will help us in our drive to further enhance professionalism across our project management community.