Senior IT figures awarded Honorary Fellowship
British Telecommunications (BT) client partner Howard Dickel and John Bartlett, who has worked as a project manager and consultant for IBM, have become Honorary Fellows of APM.
Howard and John, who have both contributed significantly to the profession, will be presented with their Honorary Fellowships at the APM Awards on 1st November.
Howard led BTs London 2012 Olympic Programme to design, deliver and operate all of the fixed and mobile, voice and data communications networks for the London 2012 Olympics, a role he held since early 2008. This involved ensuring that communications were in place for all the media centres at every Olympic venue.
Howard has worked in the ICT industry for over 20 years having started his career with IBM. In the last 20 years he has held a wide range of roles including technical consultancy, sales and marketing, service management and programme management.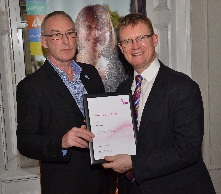 His first degree was earned at the University of Greenwich and then Howard completed an MSc in Programme and Project Management in 2009. His research thesis considered the effectiveness of knowledge management at the Olympics and the implications for London 2012. This thesis won him the Geoffrey Trimble Award at the APM Awards in 2011 (pictured right). He is very generous with his time and has spoken twice at the APM Conference as well as travelling to Brisbane last year to present at the IPMA World Congress. He truly exemplifies the role of the programme director and always finds time to help others.
John Bartlett has been a member of APM for 24 years and has enjoyed a long career in business and IT project management with international companies, such as IBM, NCR and global consultancy DMR. He specialises in business change delivered through project, programme, risk and quality management, and provides relevant consulting, training and publications. His clients have comprised government organisations and blue chip companies worldwide.
As well as managing projects in a variety of industries, he has been involved in several large scale programmes of change: Barclays Bank Year 2000 Programme, British Airways Embracing Change Programme, NCR Implementation of the Euro, and the NHS National Programme for IT. In all of these he pioneered the use of novel techniques, such as soft systems methodology to create programme goals and blueprints and ease the translation of business change strategy into delivery structures.

John (pictured left) joined APM in 1988 whilst employed at IBM, and he was instrumental in persuading the company to recognise and embrace APM as an organisation that could be of benefit to IT project management. He gained his APM Certified Project Manager qualification in 1993 for his successful management of a pan-UK technology project for Forte Catering. He was elected an APM Fellow in 1996. He pioneered the development of programme management in the UK, working with the CCTA (now OGC) in the publication of the first MSP framework. He went on to write Management of Programme Risk for the CCTA and assisted with the development of MoR (Management of Risk), which continues to contain several of his techniques today. He has also assisted in the review of new government project-related guidance.
He served on the APM Council from 1996 to 1999 and has participated in many APM initiatives from conferences to publications. He was, for example a contributing author to the much acclaimed APM PRAM Guide 2nd edition. Whilst on Council he helped APM to understand the increasing importance of technology projects and to accommodate IT APM members, in what was then a largely construction and engineering based membership.
Now retired, he retains links with project organisations in the private and public sectors, and continues to contribute to project management thinking. He is, for example, an external assessor for project and risk management for Portsmouth University Business School and a visiting lecturer in these subjects for several universities. He continues to attend and make presentations to APM Branch meetings and events.
His published books and papers, which include Managing Risk for Projects and Programmes (2002, 2007), the best-selling Managing Programmes of Business Change (1997, 1999, 2001, 2006, 2010) and Right First and Every Time Managing Quality in Projects and Programmes (2005), are major contributions to the development of project and business change thinking and are standard references in the APM Body of Knowledge.