Programme Management SIG Newsletter Spring 2015
In this edition:
From the Editor
From the Chair
Introduction to Programme Management Guide
Gpm First
Myth-Busting at the APM conference 2015
PwC Global PPM Survey
The Secrets of Success
Benefits Summit
Putting down the roots for good governance
Blog Update
Volunteer Profile
What's On?
---
Welcome to the Spring 2015 edition of the APM Programme Management SIG newsletter. The objective of the newsletter is to keep members up to date with SIG activities and related developments in the world of programme management. The feedback to our previous editions was extremely positive - thanks to all those who took the time to tell us what you think!
This is your newsletter - please keep the feedback coming and help shape its content, style and focus. If you have any comments on the topics covered, contributions to make, or wish to raise an issue please complete the feedback sheet here.
Colin Parker
---
Since our Autumn Newsletter we've been … busy!
The Glasgow Volunteers' Forum took place from 20th - 22nd March, and was attended by 70 plus enthusiastic volunteers from the UK and Hong Kong including our own members - Andrew Gray and Jim Dale.

APM's new chief executive Sara Drake opened the Forum, describing her first month in the job which had also been busy and had included the opportunity to meet many of the volunteer Branch and SIG representatives. She thanked the volunteers for their dedication, in particular those who had created high-quality events, webinars and publications for the profession over the last year.
APM.Board Chair Steve Wake echoed Sara's thanks before making innovative use of a 'decision wheel' to provide insights into various issues and opportunities - and to outline the ongoing work of the Board.
He described the structural changes that had been necessary to transform APM as part of an overall reformist agenda.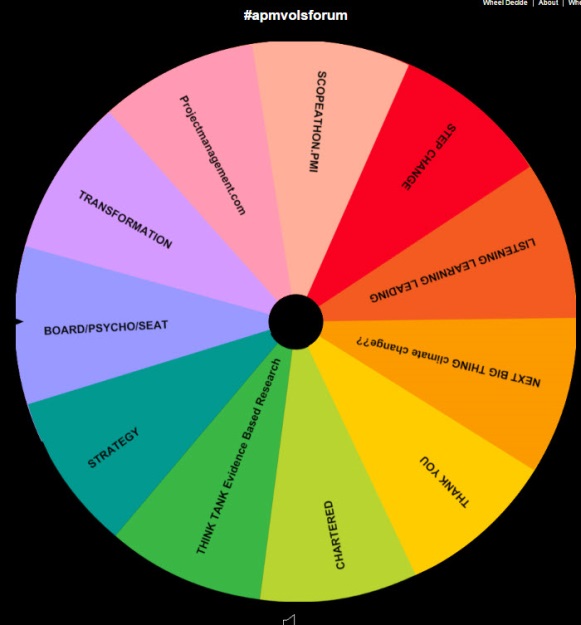 The spinning wheel allowed him to bring alive topics dear to his heart including 'Listening, Learning and Leading' and evidence-based research.
After lunch, in a series of six 10-minute Dragons' Den style slots, presenters gave a pitch on what they would like to see. Andrew Gray proposed "more working with other organisations based on the join APM / INCOSE model" [a subject he has championed since the ProgM Delivery more for less conference, Nov, 2013] and I pitched the idea of "Share your project management experience day" sometimes known as a scope-a-thon!
With a change of personnel being announced I am delighted that Colin Parker now joins me on the SIG Steering Group [SSG] where we will work hard together to improve the coordination and collaboration between ProgM, the other 13 SIGs and APM HQ. In this period we have also been busy writing blogs and have now kicked off a refresh of the APM Introduction to Programme Management [with a twist which Geoff explains below].
One of the real jewels in the ProgM crown is our high quality webinars which continue to have mass appeal - see for example 'The Age of agile with everything - what does this all mean?'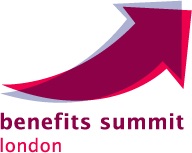 Other physical events are detailed at the end of the newsletter, including our AGM on 14th May and the upcoming Benefits Summit #apmbmsummit comprising a number of events between 23 and 25 June. We are delighted to announced that this is a joint enterprise with our good friends at Benefits and Value Management SIGs. Workshops and an Executive Briefing will provide us with a neat prelude to a star-studded one day conference in London's Hatton Garden [now isn't that famous for something else recently!]

As in any good Oscar, or wedding, speech, I recognise the tremendous value of the work done by others. Thanks to the members of ProgM committee for their wisdom, insight and substantial contributions to the work of the SIG. We look forward to continuing to serve our members in 2015/16; we have some great [rolling wave] plans but would love to hear more about what you would like to see.
Merv Wyeth
---
Introduction to Programme Management Guide
Eight years ago the publication of the APM Introduction to Programme Management was broadly welcomed. Since then programme management has continued to mature. We have much clearer ideas about the role of programme and project managers and best practice continues to emerge.
However there does seem to be a lack of understanding amongst at the CXO level of what programmes are all about. [See for example our upcoming flagship AGM event Projects and Programmes are two different animals - don't underestimate the gap']
These observations led to a project proposal to refresh this publication.
The ProgM committee is keen to hear suggestions from the programme management community and these will be assembled by me. (geoffreiss@geoffreiss.com)
Geoff Reiss
---
Gpm First

GpmFirst takes learning to a new level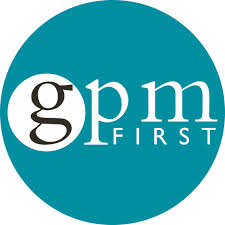 GpmFirst www.gpmfirst.com is Gower Publishing's new online community for project and programme management. It is a platform for learning, sharing and collaborating backed by 50 years of professional publishing experience and content.
GPM First provide online access to more than 1,200 chapters from 120+ project and programme management books for practitioners and professionals 'on the go.' It is optimised for mobile and contains
Additional Print Materials: chapters, case studies, commented templates, checklists, models, tools, survey, research reports, exercises, formulae and must-read guides, to download and adapt to your own needs – each one consistent and expertly curated to ensure, rigour, application and relevance.
Non-Print Materials: videos, slide shows, podcasts and audio files – browsable by subject.
Activities: webinars, hot-seat presentations, facilitated discussions, virtual workshops and meet the author.
Two articles that ProgM SIG readers may find particularly interesting are Improving Programme Management Maturity and Programme Knowledge Management. Incidentally, these form part of the original Gower Handbook of Programme Management. Geoff Reiss, John Chapman and Adrian Pyne [3 of the 6 original authors] are current members of ProgM committee. See our related Paul Rayner Memorial webinar.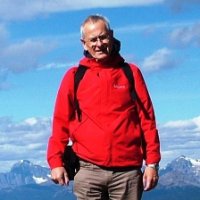 I would also highlight Gerald Bradley's treatise of a book on Benefits Realisation Management. Gerald's approach is as relevant today as when he first put pen to paper [probably literally]. Personally, I love the fortifying quotes [which is what you need when doing BRM] at the beginning of each chapter. For example 'Whatever you dream, you can do. Begin it. Boldness has genius, power and magic in it. Begin it now.' [Goethe]

ProgM SIG is grateful for the continued support by Jonathan Norman and his team at Gower and we wish them well with GPM First. Jonathan will be attending #apmbmsummit on 25th June to tell us more [provided he is not up a mountain!]
Merv Wyeth
---
Myth-Busting at the APM conference 2015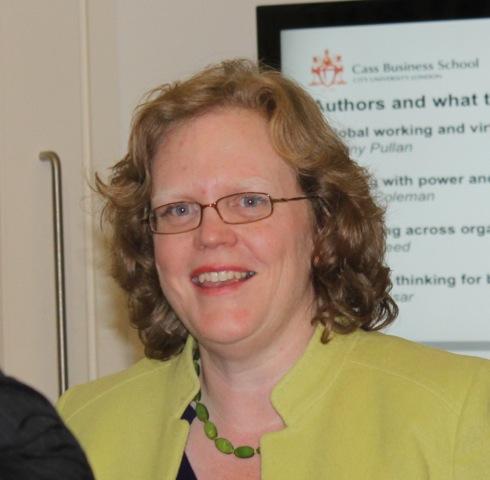 This year, I was lucky to attend the sold-out APM conference as a ProgM SIG volunteer. This short blog piece gives my impressions, plus some of my insights from the day.
The APM conference 2015 focused on busting myths in project, programme and portfolio management, specifically myths around people, delivery and big projects.
When I arrived at the conference venue, the only way was down! A very long escalator took me deep into the basement of Kings Place, where the conference exhibition was in full swing. There is always a buzz when project managers and relevant bookstalls and vendors are put together and this day was no different.
The exhibition extended over two floors, as did the refreshment stations. Soon I spotted people I knew from the ProgM SIG, from my time in WiPM SIG or from the Midlands branch and many conversations started with new people, including other volunteers. This promised to be a fun day as well as one full of new insights.
You can find all the details of the sessions I attended in my full report but here are my overall impressions. From the conference, it appears that our profession is in good health. There were people who were willing to challenge orthodox ways of doing things and to try new things. Others had learned from their many years of experience and both groups had achieved great success. Still more speakers gave their perspectives from outside the profession, on topics such as leadership, talent versus the power of mindset, using data to make good decisions and being more agile within organisations.
The themes I heard over and over again include the following:
Think carefully about what will work in your situation and learn as you go;
Leadership does not need a perfect individual; we can do it together as a well-rounded team;
People deliver projects – engage them with emotionally and socially as well as rationally;
People make decisions based on their personal perspective;
Practice makes perfect, so make sure you learn as you go;
Resilience is a key component of leadership (and thus project leadership of course);
Change is constant!
Overall, I am reassured about our profession. From those I spoke to at the conference, it seems that many of us are more self-aware than we used to be. We no longer expect that turning a handle on a process will result in successful delivery of benefits. We know that people can't be treated as rational machines, but as individual human beings to be engaged at many levels. We know we don't have to be perfect, and don't expect others to be perfect, but we do need to bring together the diverse talents of the people around us as only together can we provide everything we need for our projects.
I wonder if this rings true for you? Let's have a conversation to bring the thoughts from the conference in the basement to a wider discussion. I look forward to hearing your thoughts.
Penny Pullan
---
Where shall I start? What an amazing event by our good friends at PWC. As I introduced the evening I knew we were in for some fun as Karl Reilly @karl_reilly_pwc, our host and speaker for the evening, let it be known that he would 'ask the audience' to send in their votes using software called Poll Everywhere. You only have to look at the website of this tool to realise just how engaging this can be for a live audience!
The event was co-organised by the APM ProgM and Governance SIGs and I shared the privilege, with Miles Dixon, of introducing the evening. Besides making reference to the breadth of Karl's experience, including the 'hard knocks' of programme management, I threw in a couple of challenges … the famous saying there is "lies, damned lies and statistics' so why should we trust what we would be hearing!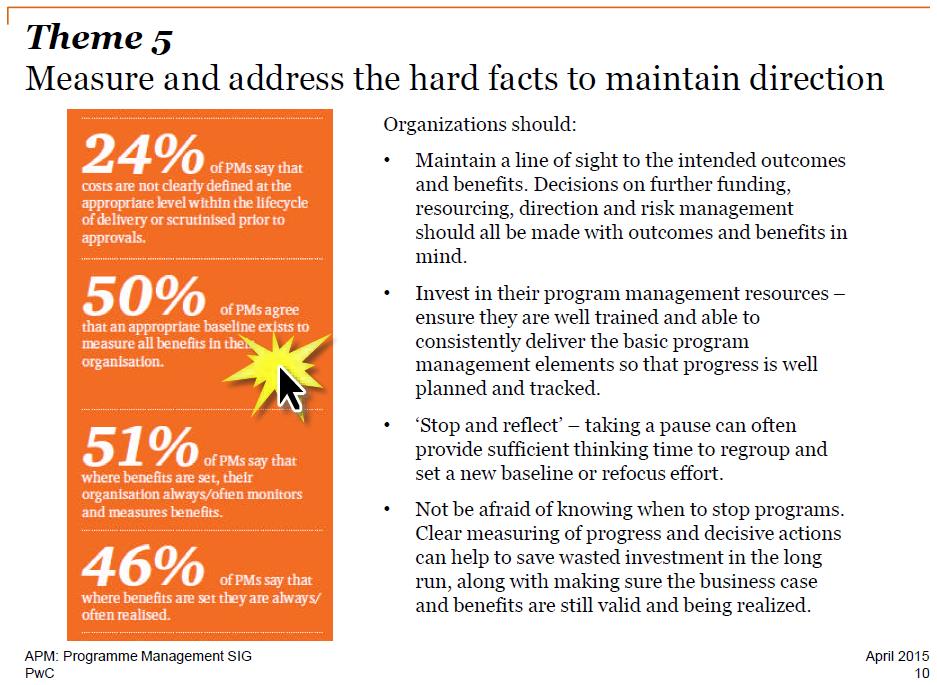 Also, concerning the exam question "Do people who commission change get what they want?" isn't it shocking that out of more than 3,000 respondents from more than 100 countries only half [50%] agreed that 'an appropriate baseline exists to measure all benefits for their organisation.' If this is the case how could the change commissioners possibly know whether they have got what they wanted in the first place?
The 4th PwC Global PPM Survey, conducted in 2014, looked at; trends, challenges, opportunities and opinions relating to the management of portfolios, programmes and projects.
During the evening we were invited to vote by text and web on our smartphones [one of those don't switch your phones off evenings] on various survey questions. The results and opinions of 'we happy few' were compared to those of the much larger global population.
So for example. On the question of "Where benefits are set, are they realised?"
The slide illustrates the fact that audience opinion [yellow] was broadly aligned with the global view [orange] This certainly wasn't the same in every case and led to some interesting debate.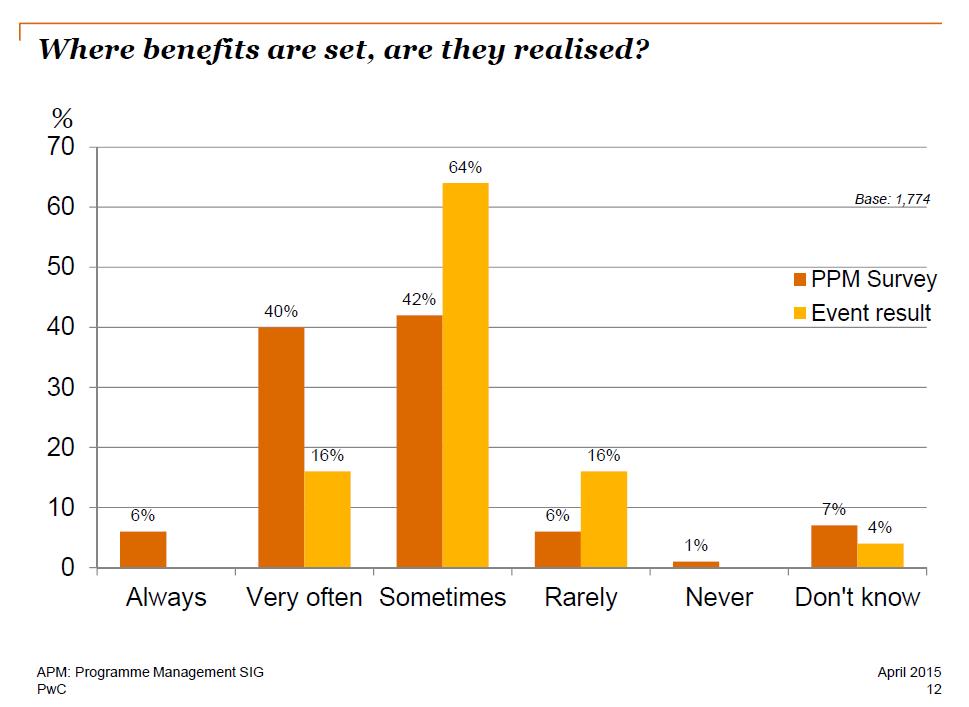 Sandie Grimshaw, who led the survey team, joined us part way through the session - after a long day at work. She argues that "The results are both interesting and enlightening, especially when considered with the findings of previous surveys, and are consistent with the results that we find when PWC undertakes maturity assessments on client programmes around the world.
I believe our survey findings have provided a fresh perspective for executive teams, as well as giving PPM professionals evidence from which to re-evaluate their priorities and approach to delivering successful change programmes."
Not being one to miss an opportunity, Alan Macklin, ProgM committee member and Deputy Chair of APM Board, stated APM's desire to be involved in some way in the production of the next survey round 2015/16. He sees this as an opportunity to extend our own work on Conditions for Project Success.
In addition, in a short infomercial, the audience were invited to join us for our inaugural APM Benefits Summit [23-25 June] - partially in response to the survey's findings on Benefits Management uptake!
So, with the post-event feedback still coming in, and respondents rating this as one of the most popular events ever [extremely high Net Promoter Score] all that remains for me to do is to give a final vote of thanks to the good folks at PWC. Excellent #eventroi.
Merv Wyeth
---
In line with the APM Vision of 'A World in which All Projects Succeed', the last few weeks have seen a focus on the upbeat, aspirational aspects of 'what works well'. We kicked off with Tim Banfield, formerly of the NAO and now the Executive Leader of the Major Projects Authority, providing a fascinating analysis of the work of the MPA and the trends we are seeing in the performance of the Government's Major Projects Portfolio (many – most? – of which are actually programmes).
Tim's webinar MPA: Some perspectives on project delivery provided first class CPD for anyone involved in major public sector projects and programmes. Such was the demand for this webinar, and the interest generated in the Major Projects Leadership Academy (MPLA), in which Tim played a key role in setting up, we followed up with a webinar dedicated to the MPLA presented by Dr Paul Chapman, the MPLA Academic Director and a member of the APM Board entitled 'Building project leaders to deliver HM government major projects portfolio.'
One might be tempted to see some overall strategy or plan here as the next step in the drumbeat of delivery was the release of a very significant piece of research by the APM into the 'Conditions for Project Success.' Based on engagement with over 850 PPM Professionals, the 16 page highlights report is a very easy "must read" booklet for any serious student of our professions.
For me, one of the most remarkable features was the consistency of the top 3 success factors across all the measures of success. And if you think I am going to share these here you are mistaken: learning that you have to make some effort to gain is much more likely to stick than gems served up to you on a plate! So commit 30 minutes of your valuable to time to connecting onto that link and reading the report for yourself. (And if you only have 10 mins you can skim it – and test yourself tomorrow – 90% of you will not be able to name the top factors).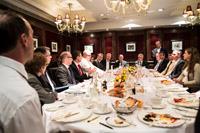 Building on this report, APM held a Breakfast with 17 industry leaders to discuss the findings. For me, the 3 'takeaways' from the conversation were that:
A. It is all about the people – their competence/professionalism and behaviours;
B. In the increasingly complex world of PPM (scope, environment and technology), collaboration is the only credible way forward; and
C. Client and delivery teams are dependent on one another's clarity and competence of roles and responsibilities for success.
And to pull this whole discussion full circle, the correlation between the 'Conditions for Project Success' and the work published by the National Audit Office (Tim Banfield again) in Dec 2011 on 'Initiating Successful Projects' (another high quality 30 mins CPD) is very striking.
The answers to success are out there – and the first lesson for success is to learn from the experience of others before you start in preference to the mistakes you make by 'just doing it'!
Alan Macklin
---
APM Benefits Summit - One Day Conference – 25th June 2015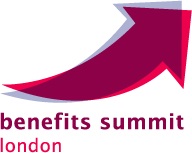 The discipline of Benefits [Realisation] Management has been around for 25 years - and Benefits Management SIG for around 5. The time has come to reflect on what has been achieved, and move on. We believe that Benefits Management has been 'waiting in the wings' for long enough and will soon take its rightful place - centre stage in Strategic Planning, Portfolio management and PPM Governance.
#APMbmsummit is delighted to be working closely with colleagues from Australia and New Zealand, who share our vision and will, no doubt, relate similar experiences that chime with our own. Along with UK they are a key player in the fast growing global BM network.
#APMbmsummit will comprise 6 speaker-led sessions and 6 workshops in our, easy-to-reach, central London location.
Our conference is great value [early bird discount available to 1st June is £90 for APM members & £108 for non-APM members] and will provide the opportunity for delegates to learn and network with others who are also passionate about creating business value, and realising benefits, from their own projects and programmes.
The objectives are to:-
To establish #APMbmsummit as the annual 'must attend' UK conference for Benefits Management
To further the art and science of Benefits Management worldwide
To provide a forum for sharing knowledge and good practice
To provide delegates with great networking, learning and professional development opportunities
To support the development of the community of benefits management practitioners and stakeholders
Who should attend?
Project and Programme Directors, SROs
Programme & Project Performance Managers
Portfolio & Benefits Managers
Change Management Professionals
PMO teams in Portfolio, Program or Project offices
Business Case Writers, Analysts & Appraisers
PRINCE2®, MSP®, P3O® & MoP® focused organisations
Value Management Office Team Members
We have a very strong line-up of speakers including; Eddie Obeng, Founder of Pentacle Virtual Business School, Colin Morris, Strategy Director, HS2 and Bridget Jackson and Alison Hood from the National Audit Office … and many more.
In our workshop sessions we will cover such topics as: pragmatic approaches to BRM, embedding benefits in the public sector, stakeholder engagement and health and social benefits from initiatives.
Merv Wyeth
---
Putting down the roots for good governance
16th and 17th June 2015: Armourers Hall, Moorgate, EC2R 5BJ. London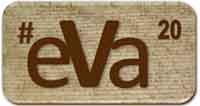 ProgM SIG, with colleagues from Governance and PMC SIGs, is delighted to be supporting this eVaintheUK event in this historic anniversary year - the twentieth in the eVa conference series.
Eight hundred years ago, on 15th June 1215, an embattled King John met the English barons who had backed his failed war against the French and were seeking to limit his powers on the banks of the Thames in Runnymede.
The weakened monarch had little choice but to witness the sealing of the Magna Carta, what some say is the world's most important document, one that, symbolically at least, established a new relationship between the King and his subjects. Governance for all!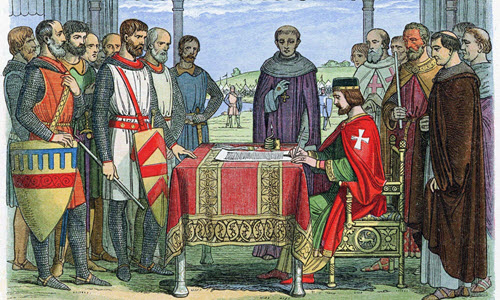 In recognition of this landmark in history, and to celebrate 20 years of eVa, Steve Wake has invited the Great and the Good to come and discuss the project management profession. A look back and a look forward, and an opportunity to sign our own charter in support of the profession.
A full list of speakers appears below. Further details and information on early bird booking arrangements can be found on the eVaintheUK.org web site.
Speaker
Title
Organisation
Sir John Bourn
Auditor General 1988-2008
Keynote
Tim Banfield
Head of Profession
Major Projects Authority
Sir Tim Laurence
Chair
Major Projects Association
Simon Kirby
Chief Executive
HS2
Martin Samphire
Chair
APM Governance SIG
Stephen Carver
Lecturer
Cranfield
Jack Pinter
The Agile Jazz Band
Square One
Elizabeth Harrin
A Girl's Guide to Project Management
Otobos Consultants Ltd
Mia Nordborg
Director Customer Experience
Projectplace
Dr Helgi Thor Ingason,
Dr, Haukur Ingi Jonasson
Master in Project Management
University of Iceland
Dr Peter Morris
Bartlett School of Construction and Project Management
UCL
Simon Springate
Head of Project Controls [Europe]
CH2M Hill
David Bennett
Vice President, PMCM and Rail
Jacobs Engineering
Merron Simpson
Director
New Realities NHS Alliance
Julia Forte
Associate Director, Project Management
Quintiles
Paul Kidston
Simon Taylor
Heads of Project Controls & PMC SIG
Taylor Woodrow, HS2
Bruno Kahne
Head of Research and Development
Airbus Group Leadership University
Robin Yeman
Agile Transition Lead / SME
Lockheed Martin
Dr Sylvana Storey
Director
Global Organisational Integrators
Louise Hardy
Programme Manager
Infrastructure Director for the Delivery Partner to the ODA
Jake Holloway
Client Director
Xceed Group
Eddie Obeng
Dinner speaker
Pentacle Virtual Business School
---
Engagement and communication are a key element of our annual strategy, and one way we deliver this is through a regular series of topical blog posts on the APM Blog. We aim to publish one blog a month, and follow up with engagement via comments on the blog pages and also via the APM LinkedIn Group. We welcome and invite you to contribute to the discussion by posting comments and responses to the blogs, and if there are topics you want covered please let us know.
We also submit a range of news items that can be found on the ProgM Micro-site.
Ed Wallington
---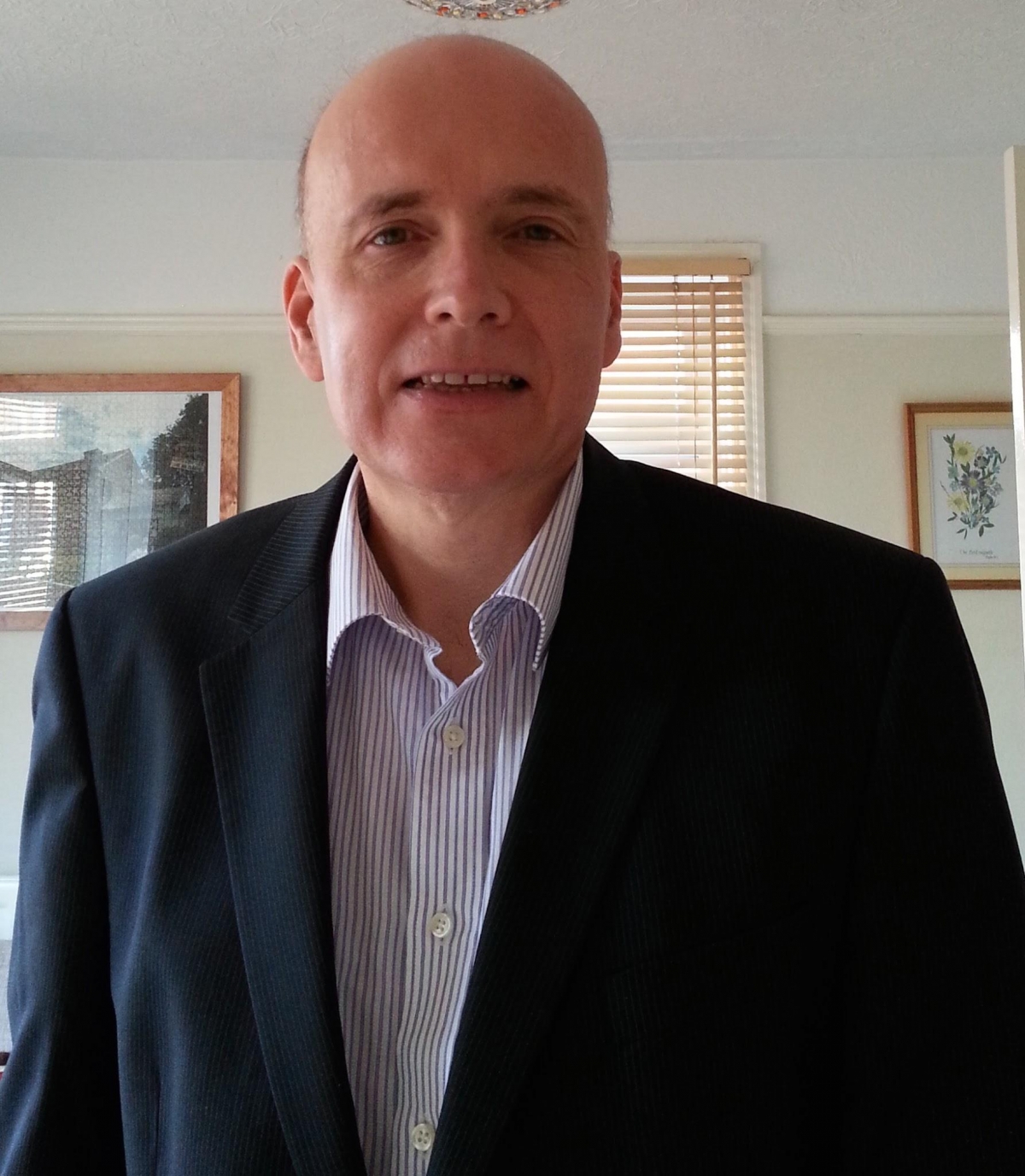 Volunteer Profile
Why did you decide to become a volunteer with apm?
I have been a member of the Association for years but have always been too busy to get involved. In 2014 I was unable to work due to medical treatment and volunteering for the APM essentially kept me sane.
What benefits have you gained from being an APM volunteer?
In short, friendship, a great network of expertise and interesting things to do!
Aside from keeping me occupied it has introduced me to a wide variety of people from many different walks of life. Producing newsletters, writing blogs and organising webinars has enabled me to re-evaluate my practice and learn new skills. As a result of volunteering I have made some good friends and learned a great deal simply by rubbing shoulders with some really talented and experienced people.
I am now a member of the SIG Steering Group and Secretary of the Programme Management SIG. There is always something new and interesting to learn wherever you look in the APM.
What would your top tip be to an APM member looking to become a volunteer?
Don't put it off because you are too busy! The opportunities for learning and networking are immense and you can tune your level of involvement to fit with the time that you have available. Join a SIG or local Association group on the website and get in touch with the chair letting them know what you are able to contribute.
Colin Parker
---