Stakeholder guide available to download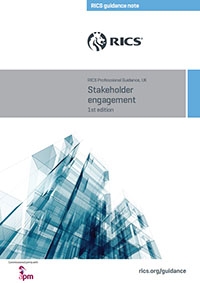 The latest RICS professional guidance note Stakeholder engagement is available to download to APM members.

The guidance, jointly commissioned by APM, outlines the principles of effective stakeholder engagement.

Written by Donnie MacNicol, Guy Giffin and Paul Mansell the guidance:
Introduces the topic
Discusses emerging stakeholder terminology
Outlines stakeholder management capabilities
Provides the results of a specially commissioned survey
Gives an overview of related RICS and APM resources
Stakeholder engagement was jointly commissioned by the Royal Institution of Chartered Surveyors (RICS) and APM following research which revealed that 80% of project professionals felt insufficient resources were being committed to develop the discipline.

Writing in a recent APM blog, author Donnie MacNicol said: "The aim of the guide is to de-mystify the topic and to outline 10 principles which underpin the successful management of stakeholder expectations, communications and behaviour.

"The document can be viewed as 'nuggets of advice' that have come from a trusted colleague or mentor. You will find something, if not many things, to reflect upon in your own practice and hopefully useful ideas to take on board."

The 10 principles are currently being used by the Oxford Chapter of APM's Thames Valley branch to produce a 'work package' that looks at barriers to stakeholder engagement as well as practical solutions.

The subject was also discussed at the APM/RICS Project Leadership Conference, held in London earlier in the year.