Sunday Telegraph report on project management out this weekend
APM will yet again be supporting the Sunday Telegraphs special report on project management. The special edition of The Business Reporter will be distributed inside Britains best-selling quality daily newspaper on Sunday 13th April*.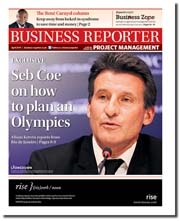 The report will investigate the essentials for successful project management; explore the value of adhering to strong project management methods and examine how these methods are practised across businesses. It will look at overcoming obstacles in adopting project management strategies to their real application on the job.
The report will also cover how good leadership holds the key and will take a look forward to Brazil's 2014 Fifa World Cup and 2016 Olympic Games.
It will also report on how learning lessons and the transfer of knowledge are key aspects of the UKs success in major project management. This will be the focus of a thought-provoking article where APM Board member Alan Macklin challenges the profession to collaborate for the common good.
Dont forget to pick up a copy on Sunday 13th April to read articles on all aspects of major project management including*:
Infrastructure Projects
The report examines the critical issues facing these major projects, including attracting and managing investment, hands-on project management, handling clients, delivering transformational change and ensuring knowledge transfer.
Case Study
Insight: Britain gave planning consent for Hinkley Point C, the 16bn nuclear plant near Bristol, in March 2013 and signed a deal with French state controlled utility EDF to build it at the end of October. The report will look at the complexities of the project and analyse the lessons that can be learnt.
UK strategy
The report takes a look at the UK Government Construction Strategy and Infrastructure Cost Review Implementation Plan which aims to drive cost efficiency in the construction industry.
Modern management
Learning lessons and the transfer of knowledge are key aspects of the UKs success in major project management. The report looks at techniques for ensuring that lessons learned on major projects are shared.
Longevity and complexity
Major projects can run for years. The report looks at the challenges, including political and regulatory changes, and examines how project managers must adapt and juggle competing priorities. It will also cover changing perspectives on capital investment across the operational life of major projects, and examine new thinking on the best ways to fund long-term projects.
*Publication date and editorial subject to change.