SWWE Project Management Challenge Finals Night
On the evening of the 27th April at BAWA in Bristol, around 50 excited sponsors, customers, mentors and team members attended a very impressive Project Management Challenge Finals Night with four down-selected teams competing for the winner's trophy. At the end of the night after four impressive presentations, the winning tea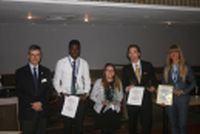 m was a collaborative team from AIRBUS in Filton and the University of the West of England, Team Fast and Curious, who delivered a project to their chosen charity, Jessie May, a Bristol based charity providing nursing care at home for children and young people with life limiting conditions who are not expected to live into adulthood. The team undertook to map out the current respite planning process, capturing inputs, outputs, procedures and resources as well as conducting market research to identify a viable solution for Jessie May, that resulted in a report that identified the top three solutions that will ultimately deliver a range of important benefits.
The other winner's award of the evening went to the Babcock Naval marine team who won the best storyboard award for delivering a project to their customer, Plymouth Scouts, around the renovation of the Saltash Passage Water Activity Centre. The standard of presentations on the night was excellent and all of the six teams competing in this year's competition have obviously worked very hard and have gained much experience and knowledge.
All of the teams participating in what was the third PM Challenge competition held by the South Wales and West of England Branch all delivered outputs and benefits to community projects and, importantly, were able to demonstrate and develop their professional project management competences, understand critical success factors, develop personal qualities and learn from their mistakes as well as get a taste of what it might be like to have a career in project management.
The other teams competing in the competition were; Team Composite, another joint team from AIRBUS and UWE with their customer from the Bristol Zoological Society, were looking to improve the maintenance team's processes and jobs board; Babcock Naval Marine who were helping the Plymouth Scouts to renovate the Saltash Passage Water Activity Centre; Plymouth City Council, who were helping Plymouth Community Homes and Plymouth University to produce a community cook book; Team Venture from AIRBUS who were looking to improve feedback methods for Ablaze charity who raise aspiration and skills levels for young people who are looking to continue education, employability and life; Team Impact from BMT Hi-Q Sigma who were looking to optimise fundraising events for the Bath Rugby Foundation.
The PM Challenge consisted of three key assessment stages:
Provision of a project plan in December 2016 that identified smart outputs and benefits to be delivered, associated resources, costs and key risks;
Provision of a final report in March 2017 which demonstrated how the teams delivered the project outputs and benefits defined in the original project plan using a range of competences defined in the APM BoK; and
The delivery of a 15 minute presentation at the Awards and Finals Night.
Bruce Phillips, the SWWE Branch committee member who lead and managed the competition, said "The project board was unanimous in its praise for the significant effort shown by all entries in the SWWE branch's third and very successful PM Challenge competition. The overall standard was very high and the range of projects selected by the teams, based upon the theme of delivering benefits to deserving community services, was diverse. Every member of the teams should be justifiably proud of their achievements in delivering real benefit to the wider community and the development of their personal and professional competence."
Bruce Phillips FAPM | Defence Programme Manager