The Borders Railway: Planning for success and overcoming challenge in delivery, 20th May 2015
On Wednesday 20th May the 36 attendees at the APM evening event were treated to a detailed insight into the Borders Railway Project.  Hugh Wark, Project Director for Network Rail, gave a wonderful presentation which detailed the challenges and obstacles faced by the project team.  Hugh with his 41 years experience in the rail industry also treated the audience to a brief guide of 'how to build a railway'.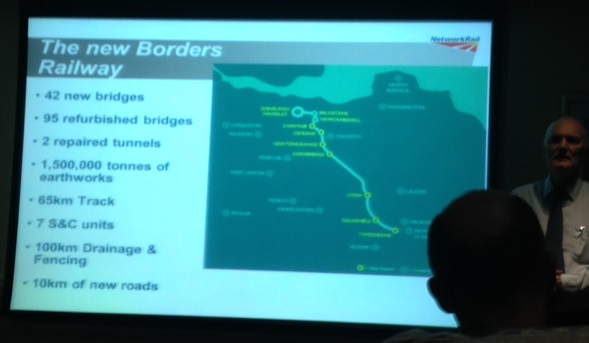 With a budget of £300million and a tight project programme the Borders Railway will provide the longest new domestic railway to be constructed in Britain for over 100 years. The original timescales had been significantly less, however given Hugh's experience he was able to offer his advice on the unrealistic timescale. 

The end of 2012 saw the commencement on the works on site.  The first challenge was to deal with all the redundant mines.  Several other challenges followed soon after with the unpredictable Scottish Winters and high ground levels leaving a blanket of snow over the construction site, rerouting of roads including the main Edinburgh City Bypass, old infrastructure, supermarket carparks and almost every type of protected species from bats to badgers. 160 badger sets in total had to be replaced, which involved a lot of peanut trails for those badgers moving home! 

Lessons learnt for Hugh on this project were mainly to do with Compulsory / temporary purchase of land, challenges with utilities and client preferences.  Despite the challenges, this major infrastructure project was delivered within time and budget.  Hugh attributes the success of the project down to realistic plans, achievable timescales, early contractor involvement and a realistic budget.  Hugh also reminded the audience that there is no sure thing as too much organising. 
Erin Clerihew
Scotland branch committee member