The PMO and Value conference, 25th October 2016 review and upcoming events
The PMO SIG are passionate about making sure that what get up to help our members to develop their PMO Skills. Why? Because the average life of PMOs at our last event was just 3.92 years – a lot of our members are young in the PMO game, so with that in mind, we believe that reviewing the conversations that took place at our events is key to the success of our follow-up themes, events, and activities.

Our 2016 conference, PMO and Value – centered around the ability for PMOs to effectively sell the PMO into an organisation by focusing on the real value that it brings. To explore this topic we brought together speakers from all over the world; and all over our (and even other) industry!

This overview of all our speakers and their messages will give you the key take away points and provide you with access to content. It will also cover what we have done since then, and where we need your input to make our 2017 successful!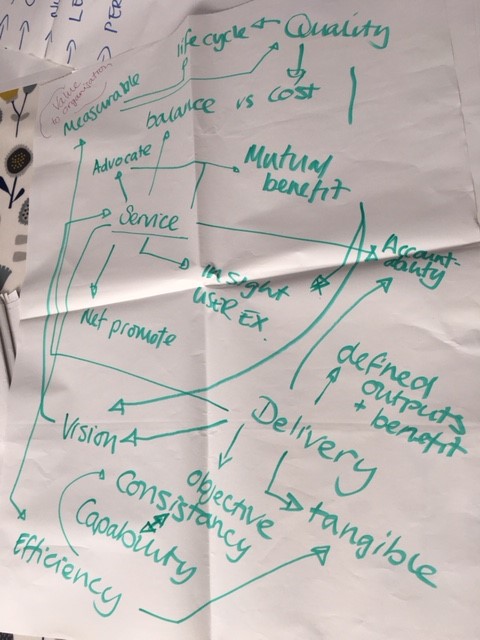 The day kicked off with a literary review to break down some of the theory of PMO and Value. Although there was lots of information to take in, it was clear that the theory varies depending on what lens you are looking through (industry, qualification, association, etc). Each group wrote down how their experiences aligned with the literary review and they found that:
Over the course of the first workshop teams identified over 20 different types of 'value' that are important to their organisation – including Reputation, Quality, Safety, and Customer Satisfaction. But even though we know what is important to our businesses:
PMO often measure benefits from other areas of the organisation but hardly ever the value they bring to the organisation, and
PMO needs to promote itself and its services more to get them known across businesses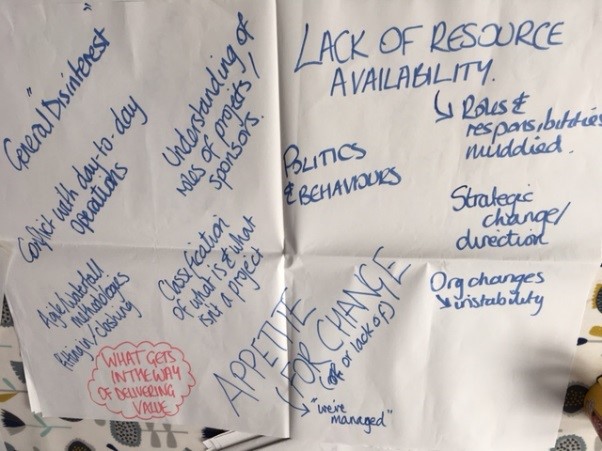 The PMO Value Ring Methodology has been developed from recent international research involving dozens of PMO leaders with extensive experience. The methodology is now used by more than 4,000 professionals in 65 countries around the world.

Americo Pinto joined us via Skype from Brazil and covered a number of myths about PMOs and explained how the PMO Value Ring can support changes that help PMOs to succeed. You can listen to Americo's presentation.

Top tip: NGOs are able to apply for a free license!

As a follow-up event, PMO SIG have been working with Americo to organise an workshop to give participants all the knowledge they need to utilise and implement the PMO Value Ring method. We are pleased to announce that this event is now available for booking! It's a small intimate event though so book early to avoid disappointment. This workshop will be taking place in London on 1 March 2017.


Matt Williams and Merv Wyeth brought a different perspective to the room from sunny Australia, and their presentation covered why your PMO needs to be strategic, and what you can do about getting it there. Matt is the Managing Director of Connexion Systems and their software Amplify supports maximising return on investment for PMOs to use.

Ray Mead, CEO of p3m global covered the just-before-lunch slot, so had the task of keeping everyone focused! During his very engaging talk, Ray used his own experiences to talk about the demonstrable value that PMOs need to focus on to be successful in their organisation.

Ricardo Vargas joined us in person from Munich to go over the mathematical return on investment of a PMO. He focused on the process that he then made available to the delegates. The downloadable document set provides the reader with key templates to us in order to implement and develop the logical approach to demonstrating mathematical value in an organisation.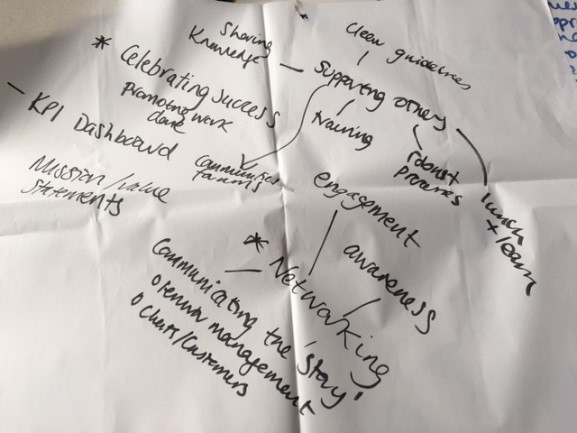 Ruth Saunders is a Marketing and Branding expert and was tasked with providing an overview of how PMOs can communicate their value in an effective way, and sometimes to Stakeholders who are not natural supporters of what they are trying to achieve.

Ruth provided tools and techniques to dealing with difficult conversations from her experience of dealing with high profile branding and marketing activities.

Ruth provided an overview in her presentation of the key steps that you can take to get the most out of a difficult situation; Rationalising, Dealing with Emotion, Escalating, and finally Retreating.

The remaining output is planned to be released to you as PMO Wisdom, but for now the information contained in these documents will be enough to keep you going. In the meantime, why not book on our PMO Value Ring event and get your organisation on the front foot with this innovative methodology?
Emma-Ruth Arnaz-Pemberton
PMO SIG Chair