The Project Initiation Routemap: How, when and why?
Infrastructure UK, in collaboration with the University of Leeds and supported by the Infrastructure Client Group, have developed the Project Initiation Routemap (Routemap).
The routemap aids infrastructure providers in strategic decision-making for specifying and initiating major projects by providing a structured approach to assessing and improving sponsor, client and supply chain capability and integration.
The routemap brings together a set of assessment tools in a systematic process aimed at improving the capability of sponsors and clients to plan, execute and operate major infrastructure. While initially developed to support UK infrastructure projects, the capabilities and practice have been found to be transferrable to any sector as the routemap targets improving the likelihood that the organisations involved have the right attributes to deliver the required outcomes. As such, the National Audit Office and the Cabinet Office recognise the routemap as good practice.
In her presentation, Nancy Madter provided an overview of the routemap including: who can benefit from its application and how and when to apply the complexity and capability assessments and aligning for success modules to maximise value through planned enhancement. Examples from the applications at Anglian Water, the Environment Agency, HS2, Network Rail, Surrey County Council and Transport for London will help to bring the routemap to life.
This webinar was organised by the APM Aberdeen Chapter committee; Hosted by David Connolly, Chair of the Aberdeen Chapter, and presented by Nancy Madter, who is the Individual Competency Development Theme Leader for the Engineering Project Academy at the University of Leeds.
The recording can be found below:
Poll results: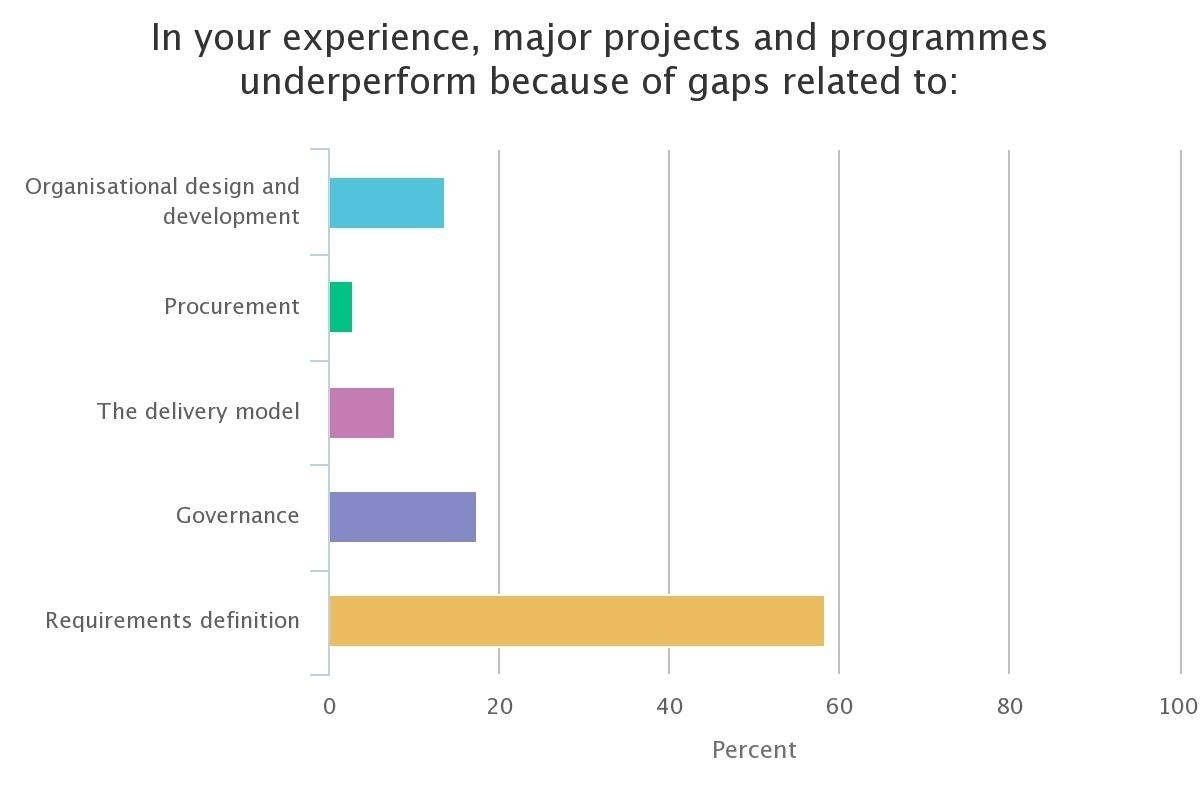 Question and Answer results:
POLL Q: In your experience, major projects and programmes underperform because of gaps related to:
| | | |
| --- | --- | --- |
| POLL Q: In your experience, major projects and programmes underperform because of gaps related to: | Webinar Question 1 | Webinar Response 1 |
| The delivery model | Has a formal benefits case for the adoption of this methodology been prepared? | A formal case has not been finalised however, evidence can be found in the case studies provided. A retrospective look at Crossrail approximated a 7% savings from the application of Routemap principles. |
| The delivery model | Have you used the Routemap on major IT infrastructure projects or IT systems modules in large civil works projects. Any observations of how quickly technology changes and use of the route map for delivery capability? | As the Routemap is focused on ensuring the presence of the appropriate capabilities to deliver, the principles are primarily transferrable to any major project. In technology dependent projects and programmes, especially longer term programmes, there is more emphasis on the importance of the capabilities underpinning resilience and the ability to future proof. This is covered in both the client and asset management capability tables. |
| Governance | Has the Routemap ever been used for non-infrastructure projects? | Yes, the Routemap was successfully applied in NHS England and in a strategic business context. |
| Governance | How do you keep a handle (in terms of keeping them on board) the stakeholders that are not directly affected by the Project but will use it when it is completed | The Routemap does not focus on techniques for stakeholder management but rather it identifies that increased management may be required to reduce the complexity generated by the stakeholders within a specific delivery environment. |
| Governance | Are the Supply Chain delivery partners involved and engaged in the Routemap Assessment process? | They can be but this is often dependent on the stage of the project. Much value can be added through early delivery partner involvement and good asset management practice would encourage it (but value can be lost if you predetermine the type of relationships required). |
| Governance | The Routemap application examples are mainly Programme level. Has it been applied to single infrastructure projects? | I am not sure where you would draw the boundary for a 'single' infrastructure project as you could argue that all infrastructure should provide wider economic benefit and therefore is inherently a 'programme'. But the principles work for both projects and programmes. |
| Governance | I work in an organisation that typically runs 30-50 projects of much smaller scale that Crossrail! Can this process be applied at the programme or portfolio level? | Yes. |
| Organisational design and development | What does DECA stand for? | Delivery Environment Complexity Assessment |
| Organisational design and development | Would it be recommended to carry out a self assessment at the end of each tranche of delivery prior to commencing the next tranche? | I would recommend that assessments be carried out at the beginning of each phase in order to allow for the required enhancements to be introduced. They book end tranches of delivery with most stage gate processes. Remember that the assessments have to be done in the context of what you are trying to achieve. They are not maturity models. |
| Requirements definition | Can the Routemap be used successfully in highly regulated environments? | Yes. It has been applied in the rail and utilities sectors. |
| Requirements definition | Would you use the exact same process for small projects as you would for large projects? | Yes. The Routemap is generally applied to large projects because they tend to be more complex but smaller highly complex projects could benefit - although the returns may not be of the same scale. |
| Requirements definition | Are people using the road map during project initiation yet to better improve delivery at the foundation level? | Ideally, the Routemap should be applied during project initiation. It adds most value during initiation and at times of significant project change. There have been several applications of this nature. |
| Requirements definition | why is it only valid for infrastructure projects? | It is not only valid for infrastructure projects. |
| Requirements definition | Can the Routemap be used successfully in highly regulated environments? | Yes. It has been applied in the rail and utilities sectors. |
| Requirements definition | Would you use the exact same process for small projects as you would for large projects? | Yes. The Routemap is generally applied to large projects because they tend to be more complex but smaller highly complex projects could benefit - although the returns may not be of the same scale. |
| Requirements definition | I know you talked about independent assessment but how about developing in-house capabilities to do the assessment | We can help your organisation to develop in-house capabilities. We already have Routemap 'buddies' in a number of organisations that are serial Routemap users. |
| Requirements definition | I have had involvement with this Routemap i an IT project and it as startling the information and gaps that were revealed | That's great. Good luck. |