Think Global, Act Local: Carlisle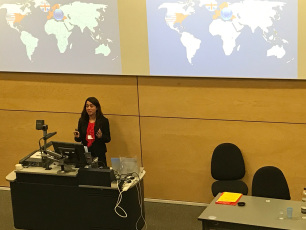 Storm Doris raging outside did not deter the enthusiastic reception for Dr Ozma Taylor's talk on 'think Global, act local' at the University of Cumbria's Carlisle campus. The phrase has been used in many contexts, but Dr Taylor discussed this in the context of how developing personal relationships and trust is a necessary prerequisite for international collaboration.
Drawing on her extensive experience of international collaboration with the Chinese nuclear industry, Dr Taylor explained how cultural awareness had really helped to develop effective business relationships.
Key take away messages from Dr Taylor's talk:
1. We need to be culturally agile and willing to adapt to develop relationships with other countries.
2. Chinese people really do not like sandwiches (but will be too polite to let you know). Please serve hot food if you are hosting them.
3. If there is a clash of cultures, explain politely where you are coming from to avoid giving offence.
4. 'Guanxi' is a Chinese concept concerning relationship development. Ignore it at your peril, trust takes time to develop.
5. In many cultures, the real work is done outside of the formal meetings. Be sensitive to what is not said as well as what is said in the meeting.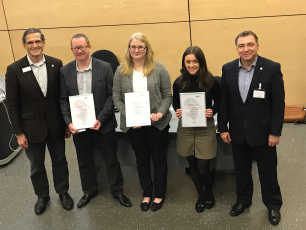 Also, at the Carlisle event, three University of Cumbria students gave their perspective of what it means to be a professional project manager in the UK.
The three students were all on the Fd Sc Project Management at the University. Their far sighted presentations included the impact of APM receiving its Royal Charter, a comparison of the APM code of conduct with that of the PMI and the role of continuing professional development.
Brian Wernham, APM board member, commended the students for the high quality of their presentations and gave an update on APM's journey towards awarding Chartered Project Professional status. The prize for the best student presentation went to Wayne Cook who is employed by Sellafield and studying through the Project Academy at the University of Cumbria.
Therese Lawlor-Wright
APM North West branch committee member