Trio awarded Honorary Fellowship at APM Conference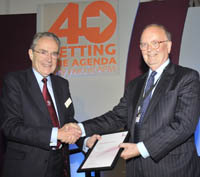 Deputy chairman of the Olympic Delivery Authority Sir Roy McNulty CBE (pictured) was awarded an Honorary Fellowship at the APM Conference last Wednesday along with Dr Eddie Fisher and Richard Preston.
The trio picked up the most distinguished honour in project management in celebration of the association's 40th anniversary and join a list of the professions most prominent figures. All three were awarded an Honorary Fellowship by APM President Dr Martin Barnes CBE for their significant contributions to developing the standards and practice of project management throughout their career.
Sir Roy McNultys most notable contributions to the profession of project management were in his roles as deputy chairman of the Olympic Delivery Authority and as chairman of the Rail Value for Money Study, which published its report, Realising the Potential of GB Rail in May 2011. This study, commissioned jointly by the Department for Transport and the Office of Rail Regulation, puts forward a wide range of recommendations focused on creating an industry environment which encourages cost reduction, changes which deliver new efficiencies, and mechanisms to drive implementation. It estimates that implementing these recommendations could deliver savings between 700 million and 1 billion annually by 2019.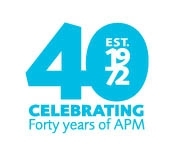 Dr Eddie Fisher was awarded an Honorary Fellowship in recognition for his outstanding international contributions he has made, not only to promote the concepts and principles of project management, but also to project management as a profession. Eddie has been sharing his extensive experience and knowledge of both the theory and practice of professional project management in the Czech Republic with students and business people since 2004, with extensive references made to the APM Body of Knowledge and his own work experiences as a practitioner of project management. He has become a well-respected and recognised guru in project management leading to it becoming more recognised in the Czech Republic as a profession and perhaps becoming the de facto standard for managing work packages across many industries.
Starting off in engineering Richard Preston developed a passion for project management, questioning established methods. Richard spent six distinguished years with Lancaster University, developing a range of innovative short and degree level project management courses. This was followed by nine highly successful years as an executive with the Nichols Group. As a proponent of experiential learning Richard was attracted to APMs Practitioner Qualification (PQ) becoming an advocate and champion par excellence delivering it to companies around the world. He is an assessor, facilitator and an active PQ panel member. Richard became chair of the Accreditation Panel and a member of the Knowledge and Professional Standards Committee. Richard instigated a major overhaul of the accreditation processes which now operate effectively. Richard remains the lead accreditation assessor with responsibility for training and mentoring a role in which he takes great pride in and performs diligently.