Universal Credit may miss deadline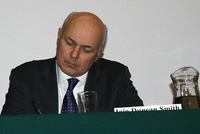 While outlining the next phase in the Universal Credit programme in a written statement released to MPs on 5 December, Work and Pensions secretary Iain Duncan Smith said that the safe and smooth delivery of the programme would take precedence over meeting specific timings.
In the statement, he said that people receiving Employment Support Allowance (ESA) may not be transferred before the deadline, meaning an estimated 700,000 people could be moved to Universal Credit after 2017.
Speaking to the BBC, Mr Duncan Smith said that it may take longer for those who are already in ESA who have no work requirement on them because they are a very vulnerable group. Therefore Howard Shiplee [Universal Credit programme director] could decide to take a little more time because they need to be processed and dealt with carefully.
A further hearing on 9 December also heard Mr Shiplee explain that the original digital-by-default mantra for Universal Credit was an aspiration too far and that it is unwise to try having everything digital at this stage.
The Universal Credit programme has been designed to combine six means-tested benefits jobseeker's allowance, employment support allowance, housing benefit, working tax credit, income support and child tax credit into a single payment to allow claimants who are in part time work, reduce fraud and cut costs.
The programme has met with a number of problems including a recent National Audit Office report that the programme has spent more than 425m despite a government IT strategy of all projects being less than 100m.
Speaking to Project about the delay, organisational change practitioner Ruth Murray-Webster explained that interruptions are common in major programmes involving socio-political change. She said: The programme isn't just building a sports stadium or some other building, piece of transportation or IT system. It's changing the methods for calculating, verifying validity and paying welfare payments to the most vulnerable members of our society.
From a programme management, rather than political communication point of view, I'd say it's good that risks have been recognised and schedule is being given a lower priority than doing the right thing for vulnerable people.
IT project expert Brian Wernam, who wrote about the Universal Credit project in Octobers Project also commented on further rollout of the Universal Credit Pathfinder IT system. He said: The rollout of the Pathfinder area to three more Job Centres from the existing 10 is a step in the right direction, but there is much left to do with 730 job centres still to go, and a target of 17 million claimants on Universal Credit by 2017.
He added: On a more positive note, DWP have announced that the current Pathfinder IT system which is in place will be incrementally developed in a more Agile fashion rather than continue with the 425m big-bang IT system project that has yet failed to deliver any functions at all.