Universal Credit to be in third of Jobcentres by spring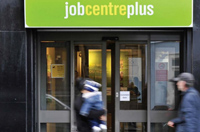 The accelerated roll out of Universal Credit means that by spring 2015 one in three of the country's Jobcentres will be taking claims for the new benefit, according to Department for Work and Pensions.
As part of the government's long-term economic plan of its flagship welfare reform, Universal Credit merges six benefits in to one and simplifies the system so the claimants can see they will always be better off in work and off benefits.
At the end of November Universal Credit was opened up to families – couples with children and lone parents – following the successful roll out to individuals and couples.
Work and Pensions Secretary Iain Duncan Smith said: "The welfare system we inherited was broken, trapping the very people it was meant to help into cycles of worklessness and welfare dependency.
"Universal Credit is bringing welfare into the 21st century by restoring fairness to the system and making work pay in a modern labour market.
"We've already seen remarkable successes with Universal Credit claimants moving into work faster and staying in work longer. As part of our long-term economic plan, this sees the next stage of this welfare revolution bringing families on-board with extra childcare support and flexibility for employers.
"By spring next year one in three Jobcentres will be offering the new benefit."
Claims from families had started in the north west with six Jobcentres going live in November with the rest of the nearly 100 Jobcentres going live early next year.
The Secretary of State announced in September that he would accelerate roll out nationwide to Jobcentres from February 2015.
It is already available to single and couple claimants in over 80 Jobcentres in England, Wales and Scotland and will be available in nearly 100 Jobcentres by Christmas.
The last new claims to legacy benefits will be accepted during 2017.
Following this, the stock of remaining legacy claims will progressively decline, and the department will migrate the remaining claims to Universal Credit.
Should there be no change in the labour market outlook or the pace at which claims are migrated, the current business case assumes for planning purposes the bulk of this exercise will be complete by 2019.
Photo: J J Ellison, CC BY-SA 3.0, via Wikimedia Commons