UWS programme receives APM Accreditation
T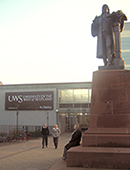 he Association for Project Management (APM) is delighted to announce that University of the West of Scotland (UWS) has recently gained APM Academic Accreditation for its MSc in Project Management course.
UWS has a long track record in developing academic courses that are also accredited by the lead industry body and APM Accreditation ensures that the MSc Project Management course is being delivered against the UKs highest standards.
This postgraduate course is available in both a blended and online format, on either a full-time or part-time basis and has attracted UK, EU and international students who want to add postgraduate project management skills to their portfolio.

Part-time students from a wide variety of organisations such as engineering and IT companies, local government, social services and charities, enjoy the flexibility offered by evening or online study which they can fit around their job requirements.
When asked why they wanted to gain APM Academic Accreditation, Jeremy Garnett of UWS commented: We want our course to be the best and we wanted it to be accredited by the best certification body for project management and thats APM.
Jeremy added: We expect that graduates from the MSc course will go on to play an active part in the shaping and development of APM and in ensuring that their skills and knowledge of the discipline are always kept fully up to date.
Current UWS project management part-time student, Kathryn Burrows, works for the Scottish Government and is busy preparing for next summers Commonwealth Games in Glasgow.
She said: The Universitys Project Management course is great and this accreditation further enhances what is already an excellent course
We are seeing in the build-up to the Games, how important it is to have a dynamic and forward thinking project management community a community of people with both academic knowledge and a commitment to professional development. It is that combination that provides the right framework and approach for the delivery of such a complex event like this.