Value destruction: Why most projects fail to realise the benefits used to make the business case for change (and how to address it)
Matt Williams, author of a recent white paper on 'Benefits-led Decision Making', flew over from Adelaide to present at a co-hosted (between the Benefits, Value & Programme Management SIGs) event in London earlier this week.
Matt's presentation was on 'Value Destruction' and why most projects fail to realise the benefits used to make the business case for change, and also how to address the problem.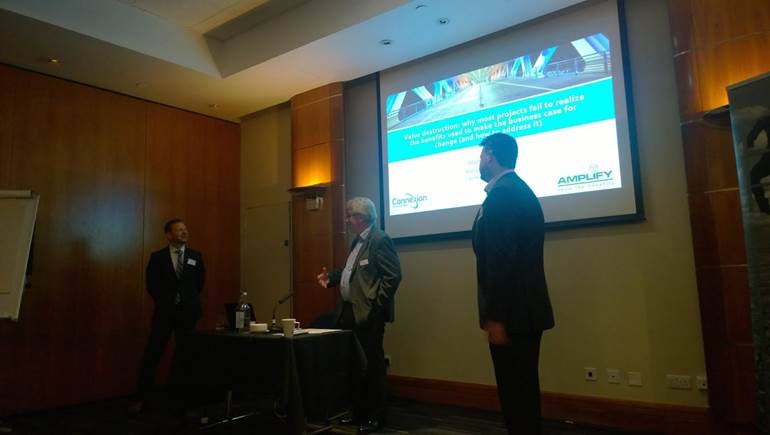 Before addressing the three major factors that, in Matt's experience, stop predicted project or programme benefits from being delivered we considered 'Why Now?' – benefits management is not a new concept but the importance attached to it has certainly increased over the recent years.
Uncertain Economic Times
Shrinking Budgets
Demanding Customers
Globalisation
All of these have resulted in organisations across both the public and private sector needing to ensure that not only are benefits identified accurately up front but genuinely realised post-implementation.
Referencing a study from 2012 by McKinsey-Oxford Matt was able to breathe life into the old adage that if you 'double the costs and half the benefits then a project is worth doing'! The majority of us have been saying this for years but it was interesting to see the evidence presented in black and white.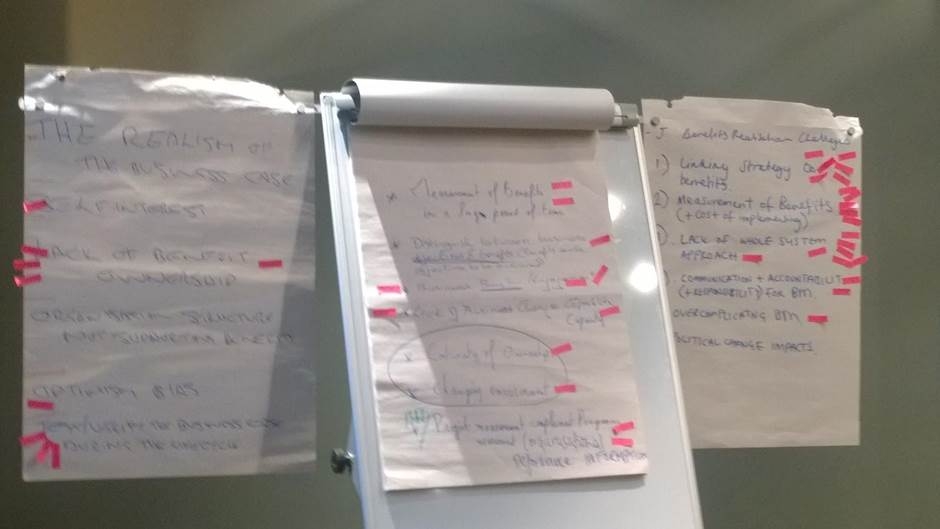 Earlier in the day a smaller number had attended a workshop with Matt where the delegates identified the common themes in why benefits and value isn't realised, or maximised, following project/programme delivery.
The groups then voted on the 'top three' barriers which, quite neatly, mapped firmly to Matt's own views on this.
Value Exaggeration - overly optimistic and/or unrealistic benefits stated in the planning phase
Value Destruction - delays in project/programme delivery and/or decisions made during delivery that don't consider the impact to the overall benefit profile
Value Decay - not properly transferring the benefits to BAU and/or not monitoring the benefits are truly being realised once the project/programme moves off
In order to counter these all too common problems Matt's high-level recommendation, to maximise the value from project/programme delivery, was to initially focus on People (having both the right organisational structure - such as the creation of a Value Management Office to work alongside a PMO - and the right mindset), then Process (a consistent approach taken to benefits/value management across all projects/programmes) before considering Tools (ones appropriate for both the size and maturity of the organisation).
 


The session ended with a Q&A, including a discussion as to whether 'whole life cost' decisions during planning phases led to better value/benefits maximisation, and a huge round of applause for what all agreed was a very entertaining, informative, presentation.
 Matt is the Managing Director of Connexion Systems, a results-driven organisation that provides innovative systems for organisations to deliver business outcomes consistent with corporate strategy. 
 Australian clients include NSW Health, Federal Treasury, Boeing, Brisbane City Council. Matt has 15 years of experience in the development and deployment of project management systems, and over the past 3 years he has focused on how organisations can realise the maximum business value from project investments.
Reported by Paul Yeomans (ProgM SIG Committee Member) and Colin Parker