Water company invests in staff to deliver 250m programme
Northumbrian Water has embarked on APMs accreditation process to develop the capability of the team that manage its 250m-a-year capital investment programme.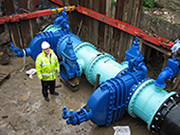 With a turnover of 647m and responsibility for providing water and sewerage services to 2.7m people each day in the North East of England, Northumbrian Water is continually building new assets and repairing its existing infrastructure.

This means maintaining and updating 29 impounding reservoirs, 234 treated water reservoirs, 416 sewage treatment works, 17,000km of water mains and more than 29,500km of sewers.

This investment programme is vital to the future of the company, so Northumbrian Water aims to help its staff become even more effective project managers to help keep it running smoothly.

Ian Lumley is a Registered Project Professional for Northumbrian Water and project manager in charge of the accreditation process. He said: Not only is APM accreditation integral to the successful delivery of our capital investment programme, but it enables Northumbrian Water to produce more consistent project outcomes through increased professionalism.

Recent schemes carried out by Northumbrian Water include a 36m mains cleaning programme, which took place over the last four years to improve tap water quality for half a million customers in South East Northumberland, North Tyneside and the north of Newcastle. A 6.4m investment programme was also carried out to alleviate sewer flooding to 93 properties in Longbenton, while the innovative Howdon and Bran Sands advanced anaerobic digestion facilities have placed Northumbrian Water at the leading edge of sludge treatment, enabling the organisation to treat 2,000,000m3 of sludge each year and to produce 80,000MWh of renewable electricity.

Robin Merlane, chairman of the APM North East branch and a project manager for MWH, said: As a natural monopoly the water industry is heavily regulated with all of its price limits, investment plans and outputs set by Ofwat on a five year cycle (AMP). This has put the need for effective project management skills very much under the spotlight since there is little or no margin for error.

There is growing recognition of the value that competent and capable project professionals can offer and, as the largest professional body of its kind in Europe with individual and corporate members world-wide, APM expects to see further development of its role wherever professional project management skills are required.