Yorkshire Water gain APM Corporate Accreditation
APM are delighted to announce that Yorkshire Water have recently gained APM Corporate Accreditation for the Yorkshire Water/IT (YWIT) Project Management Professional Development Programme. This is a great achievement as it allows Yorkshire Water to demonstrate to their customers, suppliers and employees that they are committed to the highest standards of project management professional development.
Accredited companies are able to attract and retain the best project management talent in the country. The assessment of an organisations professional development scheme gives stakeholders confidence of its dedication to developing project professionals.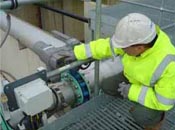 Yorkshire Water manage the collection, treatment and distribution of water in the largest county in the UK, supplying around 1.24 billion litres of drinking water each day.
To do this they operate more than 700 water and sewage treatment works and 120 reservoirs. Yorkshire Water looks after 40,000 miles of water and sewerage mains - enough pipework to circulate the earth.
As one of Yorkshire's biggest companies they work closely with local communities and their latest community campaign 'one million green fingers' focuses on creating sustainable gardens and allotments in primary schools across Yorkshire.