Delivering a Better Future: APM's Strategy
In a changing and challenging world, the project profession has never been more important. Project professionals are at the forefront of delivering in the face of change, or delivering change itself.
Our strategy reflects our role and responsibilities as the only chartered membership organisation for the project profession in the world.
Creating our refreshed strategy
Since the introduction of our previous strategy in 2017, we've celebrated many significant milestones. However, the world has also undergone huge change. To meet the needs of a volatile, uncertain, complex and ambiguous (VUCA) world, we must continue to adapt and evolve.
This strategy has been created as an evolution of our previous strategy, Inspiring Positive Change, with our charitable objects serving as a compass. We undertook a significant period of research, reflection and stakeholder consultation to understand our environment, both now and in the future. From this discovery phase, we were able to choose the strategic options that would best support the outcomes that stakeholders had identified.
By using our previous strategy as a platform, we aim to build on past successes and continue on our path of helping the project profession deliver better.
Our vision
"A world in which all projects succeed."
Our vision encapsulates all that we want to achieve as the only chartered membership organisation for the project profession. It's the goal that we strive for. We recognise this vision is ambitious and challenging, but we also believe it's achievable. By inspiring people to understand how to plan and deliver projects successfully, we can truly change the world.
Our mission and charitable aims
"To advance the science, theory and practice of project and programme management for the public benefit."
Our mission expresses how we'll achieve our vision. It's also our charitable objective. We'll share our insight and expertise to advance the collective knowledge of the project profession. Our commitment to support education, training, qualifications and standards will enable project professionals to be at their best, so that more projects are successfully delivered and achieve their planned benefits.
Our strategic themes
The environment for project delivery is complex. The project profession needs strong, consistent leadership to build the profile it warrants, challenge the status quo where it matters and set the highest standards.
Our mission and charitable objects are underpinned by four strategic themes that provide us with clear direction.
❶   APM provides leadership of the profession
❷   APM is a professional body for all project professionals
❸   APM identifies and enables the right skills for the
        project professional
❹   APM is an outstanding professional body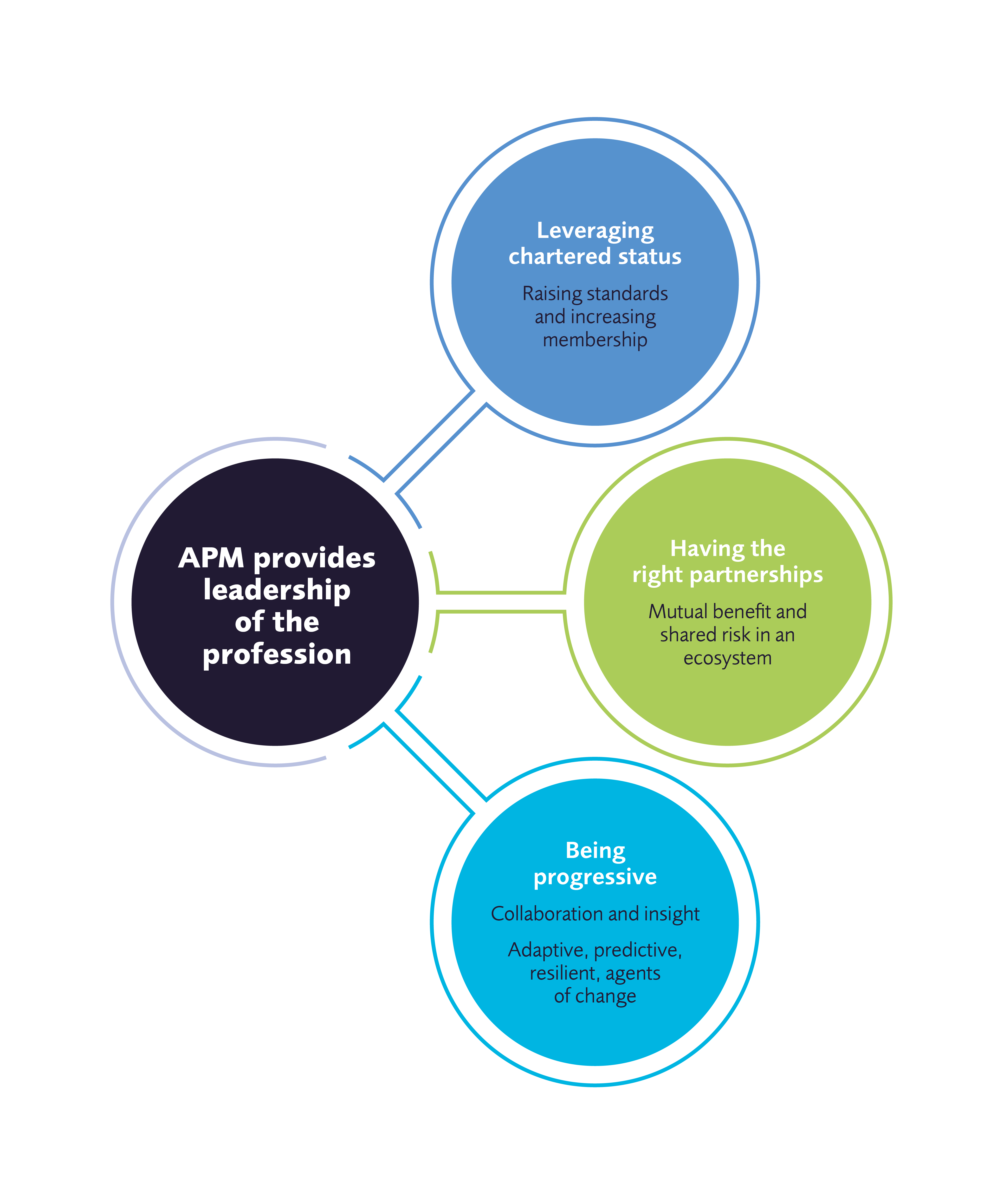 Realising our goals
2022 marks APM's 50th anniversary year. Over the past five decades, we're proud to have built a knowledgeable and diverse community. Working in partnership with these valued stakeholders has not only helped us forge our refreshed strategy, but will also be crucial to delivering it.
As awareness of projects and their value grows among business leaders and the wider public, we'll establish new partnerships with public, private and third sector organisations, as well as with communities who depend on projects succeeding in their local areas.
And of course, we continue to invest in our employees by supporting their professional development and creating a culture where everyone can exceed expectations. We've also adapted to new ways of working, becoming more agile and responsive to change. This continues to be at the core of the way we do things.