APM refreshes RPP standard
APM has refreshed its highest standard, APM Registered Project Professional (RPP).
Originally launched in 2011, the standard's unique assessment of competence and professionalism has gained pan-sector recognition amongst employers delivering all types of projects, programmes and portfolios from multi-million pound infrastructure programmes to key tactical business projects. RPP robustly assesses all elements of the APM FIVE Dimensions of Professionalism in a single standard.
The refreshed standard has been aligned to APM's Competence Framework 2nd edition and introduces new routes to gaining RPP for holders of the APM Project Professional Qualification (PPQ) and APM Practitioner Qualificati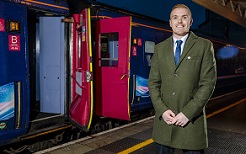 on (PQ). 
The broader coverage and revised assessment process introduces a more accessible standard for project management professionals with at least seven years' experience. 
Current RPP holder Christian Irwin, project director for Network Rail (pictured right) commented; "RPP is seen as an excellent way of standardising performance through the project management profession…. my RPP status breeds confidence amongst my clients".
In addition to demonstrating high levels of professional competence, RPP holders must commit to Continuing Professional Development and adhere to APM's Code of Professional Conduct offering the most rounded assessment of project professionalism available.
Applicants who are already in the process of applying for RPP using the existing criteria should continue to do so. Those looking to be assessed against the original first edition RPP standard must submit their portfolio by 31 March 2017 and sit their professional review before 28 July 2017.


Left to right: Stacey Dawson, Mike Wallace and Jo Durrans