MPA: Some perspectives on project delivery
Create project based controls through alignment
Building long term capability and building the profession
Strategic prioritisation and front end loading
Appendix 1 NAO Guide: Initiating successful projects
Appendix 2 Over-optimism in government projects
On Thursday 20th November Tim Banfield, Director of Strategy at the Major Projects Authority [MPA] provided some perspective and first hand experience of how projects can be improved.
Tim was introduced by Alan Macklin, Deputy Chair of APM Board and committee member of ProgM SIG, who hosted the latest webinar in the APM series. Alan, who explained that he knew Tim from his time at the National Audit Office described how helpful he had found his landmark reports such as; the NAO Guide: Initiating Successful Projects (see Appendix 1 NAO Guide: Initiating successful projects.)
Tim opened his presentation with his tagline the right projects, done right. First of all it was about picking the best projects to achieve policy intent and strategic benefit. We shouldnt try to do too many projects and those that we do choose absolutely need to be prioritised and delivered properly.
The MPA has a comparatively small team (just 80 members of staff) and needs therefore to target its efforts very carefully. Their priority is to identify the best ways to support individual departments with an emphasis on building capability across government. Their objective is to develop understanding rather than push centralised processes.
They have identified 5 key priorities:
1.Challenge, assure and support Providing expert advice and support to departments ensuring the delivery of major projects
2.Create project based controls through alignment Providing project teams space to get on and do projects
3.Building long term capability Continuing to build a cadre of experienced project leaders
4.Building the profession Ensuring that the Civil Service is the place to come for project delivery professionals
5.Strategic prioritisation and front end loading Having the right conversations about department portfolios / ensuring projects are only started when they are ready
The challenges of project delivery in government are immense. Currently there are:
80 Government transformation and service delivery projects
55 ICT projects
45 Infrastructure & Construction projects
25 Military equipment projects
All departments have problems, but much good work is also being done and we need to celebrate the successes more than we do.
The majority of projects have budgets that are less than 500m with a relatively small number being over 10bn full life-cycle cost. Many projects have long timescales (2020-2030s), others are scheduled within the timescales of a parliament. Of the top 100 projects, 15% wont deliver for at least 6 years.
In order to establish whether the improvements being rolled out across government are having a positive effect the MPA performs a large number of assurance reviews each year. In the last 12 months they have performed 4 or 5 per week, a total of 230 reviews with 30 follow-ups. This activity involves two thirds of the MPAs staff. The focus is on transformation with projects selected for impact rather than size
The current picture may look rather depressing at first glance but actually progress is being made.

As can be seen below real improvements are occurring and significantly the outcome picture is currently better for delivery confidence than was forecast. The reduction in the number of projects in red state is particularly marked. The aim has to be to further reduce the number of projects at red but this wont happen overnight.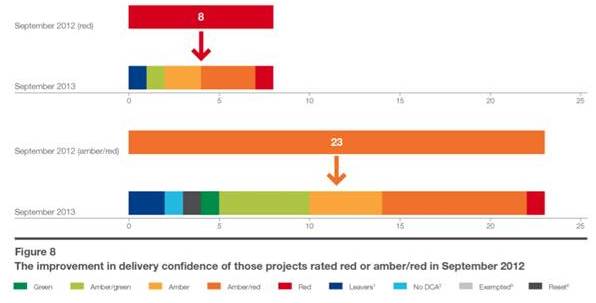 Create project based controls through alignment
Rather than mandating complex processes that must be followed the MPA are taking a more pragmatic view. Through audit and the sharing of best practice they aim to ensure that projects are effectively but pragmatically controlled, enabling project teams to focus on successful delivery.
Building long term capability and building the profession
There are in excess of 10,000 project professionals in government. The MPA is focused on providing training, career paths and competencies to this community. In particular they are concerned to ensure that individual professionals are given the opportunities needed to build their experience levels.
There is good evidence that attending to the professional development needs of staff delivers better project outcomes. See the following results of PMI research set out in PMI Pulse of the Profession: The High Cost of Low Performance, 2014.

Improving project delivery capability requires cultural change as much as it requires skills training for individuals. Success in delivery is achieved when competent individuals work together in high-performing teams and deliver into departments whose cultures enable success. Capability improvement therefore needs to focus on:
Individuals - build competence, capability and confidence.
Project teams - individual competence is critical but a complex project will not achieve success without a high-performance team. Mix of hard and soft elements
Departments - create the environment for success
Cross government - provide professional leadership, advocacy and focus for learning and evolution
Key to the strategy is the Project Leadership Academy, with 100 graduations to date. The aspiration is develop between 1300 and 1500 leaders over time. Alongside this initiative work is being done to develop appropriate career structures for tomorrows leaders. In particular the Head of Profession role is evolving into a more senior position with the objective of spotting and addressing skill gaps before they become a problem.
A significant issue that has been identified is that of accountability. In particular Senior Responsible Owners [SROs] need a clearer statement of their objectives and accountabilities with regard to the projects that they are responsible for.
The Osmotherly rules were updated on the 13th October to include a standard form SRO Engagement Letter. The intention of this is to ensure that SROs have direct accountability for delivery and ensure that the policy intent of the project is formally recorded. Tenure as SRO is linked through this process to a particular milestone and the department is required to state how the SRO will be supported.
The expectation is that this change will result in some difficult but important conversations between incoming SROs and those appointing them.
SRO turn-over is still too high but these changes should result in real delivery improvements.
Tim wants to create an environment in which being a project professional within government is a role to aspire to and take pride in doing well. This can be achieved through a mixture of professional development and cultural change with an emphasis on consistent performance and personal development.
Strategic prioritisation and front end loading
The MPAs priority is to ensure that decision makers are given the right information upon which to make judgements about which projects to run.
In particular they are being encouraged to align project work with business as usual activity. Over-ambition is a common cause of project failure (see APM blog: Disjoints, silos and the bow wave of change).
Executive boards are being encouraged to have conversations about the issues which underpin the Departments strategic decision making:
What is the landscape (number, characteristics, status and level of aggregation of each project) of the departments current projects portfolio?
How does the projects portfolio, and each individual project, align with and support the delivery of the departments strategic objectives?
What is the through-life cost, funding, and resourcing profile of the departments projects portfolio?
What are the constraints to delivering the departments projects portfolio, and what are we doing to address these constraints?
What are the interdependencies within the departments projects portfolio, and how are we managing the impact of these interdependencies?
What are the major risks against the departments projects, at both the project and cumulative portfolio level, and how are we managing these risks?
What is the departments future pipeline of projects, and how will those projects be integrated into the portfolio?
What is the departments prioritisation of projects, and how have we prioritised these projects?
How effective is the existing governance structure for both individual projects and the portfolio as a whole, and what mechanisms exist for on-going review and management of the portfolio?
Does the department have a culture that encourages openness about issues facing both individual projects and the portfolio as a whole, and action on the basis of any concerns?
None of this is rocket science but it is still a helpful framework.
Every department is doing good things, and the MPA aims to share knowledge between them. They create forums that bring Civil Service advisors together to share good ideas and the problems that they are experiencing. The approach is simple but effective and is beginning to bear fruit.
The way forward has to be enabling departments to make better decisions about which projects to start and when.
The MPA aims to support critical conversations and grow cross-departmental understanding to ensure that right decisions are made and that mistakes are not repeated for the want of no knowing.
They also see the benefit of engaging with as many other professions as may have an opinion on a project proposal to get the broadest perspective and the best advice available. Projects should be designed to deliver all potential benefits - this necessitates harnessing of the wealth of knowledge that exists in all sectors of the economy.
Tims final word was a timely warning about the dangers of over optimism and an unwillingness to learn the lessons of the past (see Appendix 2 Over-optimism in government projects.)
Appendix 1 NAO Guide: Initiating successful projects
In this guide we highlight National Audit Office reports which illustrate the different approaches departments take to initiating projects. We show how they develop a realistic understanding of the risks, benefits and deliverability of projects.
http://www.nao.org.uk/report/nao-guide-initiating-successful-projects-3/
Appendix 2 Over-optimism in government projects
Optimism bias in public sector projects is not a new phenomenon. But it is one that persists, frequently undermining projects value for money as time and cost are under estimated and benefits over estimated. This report uses our back catalogue to illustrate the consequences of over optimism. In doing so, we have identified some contributory factors such as project complexity and an organisations culture of challenge.
http://www.nao.org.uk/report/optimism-bias-paper/
By Colin Parker
Tim Banfield
Tim took up his current role in the Major Projects Authority (MPA), part of the Cabinet Offices Efficiency and Reform Group, in November 2013. Tim has a critical leadership role developing the project delivery profession in government including the development and advancement of the Major Projects Leadership Academy. Working closely with the Chief Executive of the MPA, Treasury, departments and others, Tim is responsible for ensuring a consistent, high quality, approach is adopted to prioritising and managing portfolios and for developing a refined and updated approach project initiation.
Tim has an honours degree in history obtained at the University of London, is an Honorary Fellow of the Association for Project Management, a member of the Chartered Institute of Public Finance and Accountancy and, in 2013, was one of the first cohort to successfully pass through the government Major Projects Leadership Academy.
He is a member of the Advisory Council of the Royal United Services Institute and has had a wide variety of articles published in project management and defence journals and lectures on a range of courses.
He was previously a Director at the National Audit Office that he joined in 1988 having previously worked in local government. At the NAO Tim specialised in the examination of complex project delivery and defence acquisition issues and, at various times, was also responsible for its work on DEFRA, the Millennium Dome and foreign affairs.
Tim is married to Kay, has two daughters and two dogs and is an avid West Ham United supporter.
Alan Macklin
Alan spent 34 years in the military leaving in 2011 with 20 years in the defence equipment acquisition world as a sponsor, programmer, programme manager and many other things beside. He joined the worlds #1 programme management firm (according to the US Engineering News Record) and is currently working on the MOD, Defence Equipment & Support, Managed Service Provider contract. He gained APM Registered Project Professional status in Jan 2011, joined the ProgM SIG Committee in 2011, was elected to the APM Board in Nov 2012 and appointed Deputy Chair of the APM in Nov 2014.
Colin Parker
Colin has been a project manager since 1997 and a member of the APM since around 2004. Before going freelance in 2007 he fulfilled a number of roles, including project manager, service manager and operations manager for a software house.
Since then he has been busy working for a number of large clients including Thames Water, Veolia Water, Vennsys and Babcock.
His work generally includes a mixture of IT and business change with a recent focus on large contract transition management in the water utility sector. Recent projects have included an IT Infrastructure transition, waste contractor business transition and an ERP selection project.
He has been described as being relentless in his attention to detail without losing sight of the big picture and enjoys the challenge of helping clients to get their stuff done.
APM Profile: https://www.apm.org.uk/users/colin-paul-parker
LinkedIn Profile: uk.linkedin.com/pub/colin-parker/1/b92/216/