The Blind Spot
A Study on the Ethical Dilemmas that Senior Leaders and Experts Face in Collaborations Designed to Address Grand Challenges
Our research fund study was led by Dr Efrosyni Konstantinou, Associate Professor in Strategic Management of Projects, Bartlett School of Sustainable Construction, UCL. She leads a programme of independent, interdisciplinary research on the politics of the self, in connection to ethics, professionalism and Grand Challenges.
Dr Konstantinou is a member of APM's Research Advisory Group (RAG) and has previously supported APM publications including a Chartered paper on Professional Responsibilities and Obligations and supported APM and Arup's work on The Future of Project Management (2017).
---
How to cite this research
Konstantinou, E. (2023) The Blind Spot. Association for Project Management. https:doi.org/10.61175/XPRI9143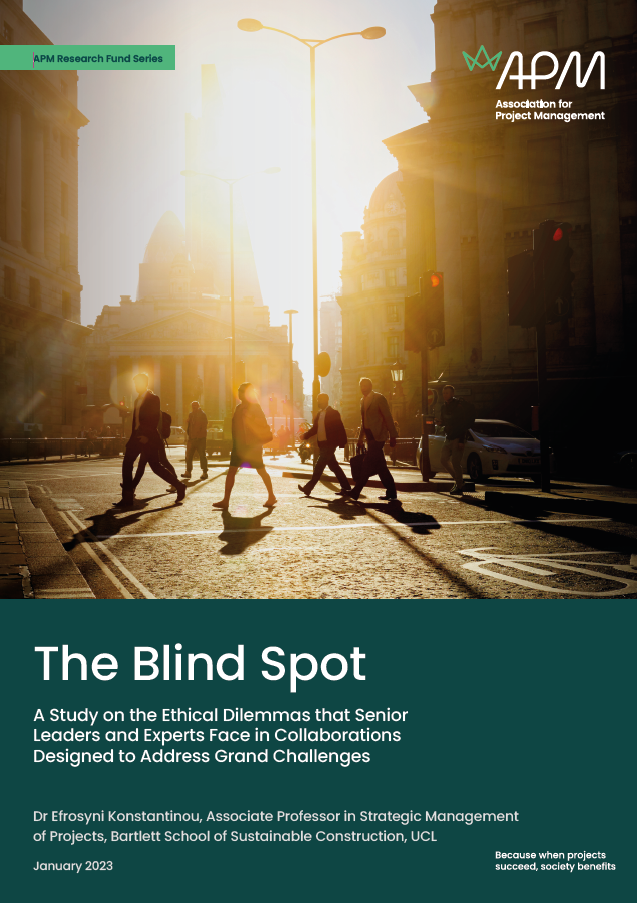 About the research and why it is important
Since 2018, this study has set out to explore whether the project management profession was ready to address Grand Challenges. This is because the political legitimacy of a newly chartered profession in society depends on the extent to which it contributes to addressing challenges, such as climate change, poverty, lack of sanitation, healthcare, human space exploration and blockchain. Therefore, 62 trailblazers of Grand Challenges Collaborations (GCCs) in medicine, engineering, IT, academia and government were interviewed on the ethical dilemmas they face in GCCs and what they do to overcome them.
Our study shows conclusively that ethics is the blind spot of GCCs. Like driving your car at great speed on the motorway where the course of travel can't change except at specific, far-in-between junctions, GCCs reflect high value, high profile projects where the stakes are high, with little, if any, leeway to changing the purpose of the project. In the same way that upcoming traffic will hide in the blind spot in your rear-view mirrors and can cause a fatal accident when you are changing lanes at high speed, ethics remain in the blind spot of GCCs, and when violated can cause uncontrollable, material damages. In the driving seat, are GCCs trailblazers, that this study defines as senior leaders and experts whose power and influence are formidably channelled in strategically managing GCCs.
Intended audience
The research has a distinct set of implications with the report setting out recommendations for individual project professionals, project organisations, policy makers, Universities involved in project management and project associations who may wish to understand how they can better understand and support the topic of ethical dilemmas in projects.
The report is also likely to be of interest to individuals who have an interest in ethics and professionalism within project delivery for Grand Challenges. 
How was the research undertaken?
The research was undertaken via in-depth qualitative interviews with 62 GCC trailblazers, involving senior leaders and experts who strategically manage projects in medicine, engineering, IT, academia and government to address Grand Challenges.
What did we discover?
Firstly, our study found that GCC trailblazers are personally invested in and live by their ethics. A GCC trailblazer embodies a personal code of ethics, i.e. their own, personal values and ethical principles, to make strategic decisions and define the boundaries of the GCC and the project. A personal code of ethics determines and distinguishes between acceptable and unacceptable intentions, motivations, beliefs, behaviours, and actions for oneself, but also for collaborators. It defines the obligations that the GCC trailblazer believes they and others ought to and must fulfil and the red lines they and others ought to and must not cross; and it gives rise to ethical dilemmas. This makes ethics in GCCs a matter that is principally personal and private, and subjective even in the presence of established professional codes of ethics, as is the case in the medical profession.
Secondly, we found that when personal codes of ethics were violated, intense episodes of violent rupture - a decisive rift - were experienced in the collaboration. In the best case, such incidents involved a fierce "discussion" between collaborators, and, in the worst, they extended to physical violence and visceral reactions to the violation of one's personal code of ethics. Such incidents caused uncontrollable, material damages and were detrimental for those involved, the project or both.
Thirdly, our research reveals that GCC trailblazers resolve ethical disputes or dilemmas in - what this study defines as - one's ethics shelter, a personal, notional space in one's mind or one's ethical 'comfort zone' where the GCC trailblazer debates alternative courses of action, decides what they are prepared to do and not do in the GCC, and makes key, strategic decisions for the collaboration before meeting colleagues, collaborators and strategic partners in GCCs – all based on their personal code of ethics.
Finally, the study shows conclusively that - as symbolic systems of meaning – the personal codes of ethics of GCC trailblazers are concealed and escape project governance structures. They remain in the blind spot of high-stakes GCCs limiting transparency in the decision-making process, and lie dormant until they are challenged and become the force that explicitly (re-)defines the boundaries.
Summary
The study highlights that there is an urgent need for the project management profession, but also for the academics, funders, investors, policymakers and others who are involved in GCCs to acknowledge and build awareness of the central role and impact of personal codes of ethics in GCCs and to act so that (personal codes of) ethics appear in the mirrors of GCC trailblazers as well as providing a series of recommendations and implications for each.
This is important so that GCC trailblazers who address Grand Challenges can be prepared and supported in working with ethics, and GCCs are relieved of the intense episodes of violent rupture that GCC trailblazers are experiencing.