A modular approach to sustainable project success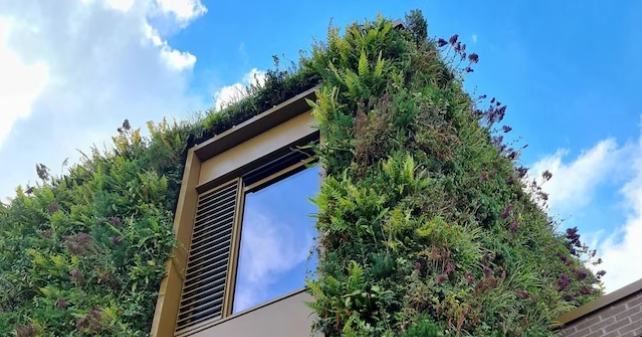 Can modular systems drive success in sustainability led projects? I set off to talk to Steve McIntyre, an urban greening pioneer and Principal Consultant at ANS Global, to find out.
ANS Global are market leaders in urban landscaping who are experiencing remarkable success with their modular, soil-based living walls. These are vegetative cladding systems with integrated irrigation, which can be installed on almost any structure, old or new, in settings ranging from tall buildings to ferry terminals to playgrounds.
"I was always thinking modular," says Steve, explaining the opportunity he saw in overcoming the time-lag of climbing green facades. Such traditional systems use plants rooted in the ground and naturally take time, sometimes as much as 7-8 years, to deliver both visual impact and environmental benefits.
ANS Global's first living wall module prototype was released in 2005 and has since been improved through design iteration; "design changes require considerable capital investment," says Steve, pointing out how each change begets a new tool. Touring their plant nursery in West Sussex and living wall projects in London, it's evident that from establishing plants to transporting, installing and maintaining living walls, the modular design has been optimised for every stage of the plant and project lifecycle.
Discussing delivery risk, Steve concurs the modular system allows them to be very accurate with cost, volume and schedule forecasts as well highly responsive to change. "We maintain good stock at our nurseries so extra modules can be delivered quickly," Steve explains, "and that's the advantage of being modular."
Since delivering the UK's first major living wall at London Westfield in 2010, ANS Global have completed 5,880 projects and extended their reach to 33 countries. And their projects are only getting bigger. ANS Global installed the world's largest living wall, a 7,000m² infrastructure project in Qatar in 2020 and have just completed the UK's first fully clad tall building in Manchester; a project incorporating 385,000 plants.
An elegant solution for the triple bottom line that includes people, the planet and profit — living walls are not short of benefits. Anyone passing a living wall in an urban environment will experience improved air quality thanks to the ability of plants to capture particulate matter from the immediate environment. They might also experience an uplift in well-being. This 'biophilic' effect has been shown to support employee productivity and attract footfall in retail settings. Tailored plant palettes, rooted in natural substrate, support biodiversity providing habitats for local wildlife and pollinators as well as storing carbon. Climate net gains go further as vegetative cover cools buildings in summer and insulates in winter, driving down operational energy consumption. "It's all about communicating the potential to clients," says Steve, "we're here to support their green mission, their green agenda."
Considering early delivery of benefits, Steve says they aim for 95% plant maturity on installation. This ensures their living walls provide instant visual impact and start churning out those benefits from the get-go. Metre by metre, elevation by elevation or even property development phase by phase; the bigger the project, the more compelling the early benefits realisation proposition gets.
Take 'Eden', a 12-storey building fully clad with living walls at New Bailey, Manchester. This project took 8 months to install over 3,000m2 of plant cover, but the community, environment and client were reaping the benefits from installation of the first module on day one.
And smart developers of new buildings are taking early benefits to the next level. By installing living walls on hoardings from the planning phase, they can build confidence in their development project from the outset, mitigate environmental disbenefits during construction and then relocate modules to finished buildings at project close. Living walls are long-term environmental assets, so developers may as well generate a return on their investment from the earliest opportunity.
So, here's a thought. 1m² of living wall is said to extract around 2kg of CO2 from the air per annum. Not so much compared to the promise of 5.5kg-40kg for a new tree, but trees take nature's good time to mature and further development of the business case or public investment to establish at scale. In the urgent drive to net-zero and with modular design expediating greening in the urban environment, is it too much to imagine that living walls could be to new woodland what wind and solar projects have been to nuclear?
With low delivery risk evident and early benefits realisation on their side, living walls are, at the very least, a brilliant example of how modularity can deliver environmentally beneficial projects at scale and speed.
You may also be interested in: