Corporate Partner Case study – Mott MacDonald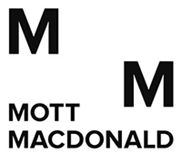 What is your company name, what sector do you operate in and how long have you been a corporate partner of APM?
Mott MacDonald, multi-sector, corporate partner since 2012.
Why did you become a Corporate Partner of APM?
Recognised APM pathway as preferred technical route for project, programme and portfolio management.
What challenges or opportunities have APM helped with/overcome?
Presenting a recognised platform for employee development into project management from both technical and non-technical backgrounds across a range of our sectors from Buildings, Transport, Environment to Advisory, Education and Health and more.
How does the corporate partnership programme benefit your employees?  
It establishes a commitment from both APM and Mott MacDonald, which enables employees to benefit from a now recognized Charted Body for training, membership and a global network of knowledge sharing for those starting out their careers in project environments and well established project practitioners in all elements of the project aligned to the 27 competencies.
Why would you recommend that other organisations within your sector become Corporate Partners of APM?
The more organizations that partner with APM will further establish the continuing efforts to promote and join an organization promoting ethics, technical knowledge and practical experience to provide working professionals with the tools and future learning material and global network to succeed and continually improve.