APM Award Winner Kelly Stone appointed MBE in King's Birthday Honours
A Heathrow worker described as a role model for young people and women in engineering has been appointed an MBE in the King's Birthday Honours.
Kelly Stone, who is Head of Airport Operations at Heathrow, has been recognised for her services to women in aviation engineering over a glittering 35-year career in aviation engineering.
Speaking to APM ahead of International Women in Engineering Day (23 June), Kelly said: "It's really hard to express what it means [to be awarded an MBE]. I have had an incredible 35-year career with Heathrow in Aviation Engineering and to be recognised for my small contribution to it during that time is amazing.
Kelly was part of the team from Heathrow Airport Ltd that won the 'Overall Project of the Year' and 'Engineering, Construction and Infrastructure Project of the Year' categories at last year's APM Project Management Awards for their firemain replacement project, which enhanced the airport's firemain system to provide to terminals and business facilities, as well as runways. She is also a long-time advocate of women in science, technology, engineering and mathematics (STEM).
She began her career in aviation engineering in the 1980s after being inspired by an event dedicated to women in science and engineering that specialised in the aviation sector. "My week's programme included a two day tour behind the scene of engineering at Gatwick and I knew then that was where I wanted to work," she said.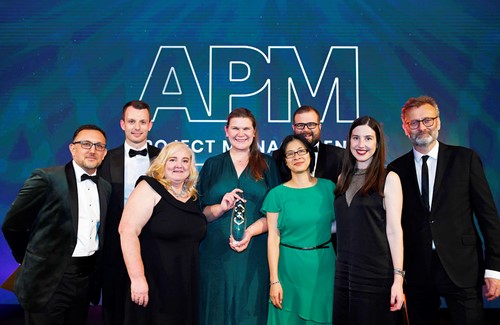 Kelly (third from left) was part of the team that won the Overall Project of the Year award at the APM Project Management Awards 2022.
When asked about the importance of International Women in Engineering Day, Kelly said: "It's important not only as a way of connecting and extending a network of allies and fellow female engineers, but as an opportunity to inspire the next generation.
"Currently only 18.5 % of undergraduates in Engineering are female and we still have so much to do to try and change these statistics and recover the students lost to STEM subjects between primary school and the end of their education.
"International Women in Engineering Day in recent years has really helped to make me personally feel part of an extended community and my goodness me there are some incredibly inspirational and talented female engineers out there, they drive me everyday to do better and keep me motivated.
"We promote STEM engagement here at Heathrow through our Primary Schools programmes and in collaboration with STEMAZING under the direction of the incredible Alexandra Knight, because it is really important to ignite young minds and the imagination and show them what's possible and what STEM really is."