"There's nowhere else like London. Nothing at all – anywhere," fashion designer Vivienne Westwood once commented. Her words ring true today, even as the capital continues to evolve.
London is a city in a state of flux. Its rate of population growth over the last five years has been more than double that of the UK as a whole. By the 2020s, there will be more Londoners than at any point in the city's 2,000-year history. The largest two London boroughs, Croydon and Barnet, have populations that make them the equivalent of medium-sized cities in their own right. Thirteen per cent of the British population lived in London in 2016, when the overall London population stood at 8.8 million, surpassing its previous peak of 8.6 million, last seen in 1939. Population growth is forecast to breach nine million in 2021, 9.5 million in 2026 and 10.1 million a decade later.
The population of inner London remains below its historic peak of five million, recorded before the Second World War. But London's overall population has grown every year since 1988, including during the severe economic downturns of the early 1990s and in the aftermath of the global financial crisis. In tandem with this population growth, the property market has boomed, outpacing every other area in the UK, with the price of housing for both those renting and those looking to buy rising sharply.
In fact, house prices in London have doubled over the last decade. According to the Office for National Statistics, house prices rose 96 per cent between October 2005 and October 2015. Government data shows that, in June 2017, the average property value in London was £481,556 – compared to an average value in the rest of the UK of £223,257. A combination of population growth, pressure on public services and transport, and the rising cost of buying a home has led to what many describe as a "housing crisis" in the capital.
Mairéad Anne Carroll is programme director for housing at London First, a business membership and lobbying organisation. London First identifies housing as being among its current top three priorities, along with attracting talent to the capital and the development of Crossrail 2, which would link south-west and north-east London, as well as destinations across Surrey and Hertfordshire.
Carroll says the housing crisis has been evident for some time: "One of the key challenges is that we are just not building enough homes. We have got so much demand, and not enough homes for people to live in." According to research by property services firm Savills, a record 46,500 homes were built in the city in 2017.
The Mayor of London's London Plan says a minimum of 42,000 homes a year should be built. But London First estimates we should be building around 65,000 new homes a year to meet demand. Carroll adds that housing regeneration projects – schemes that reverse economic, social and physical decline – must play a key role in developing a greater supply of affordable housing, whether through new builds on industrial land or the regeneration of existing housing estates. "The advantage of regeneration – when it is done successfully – is that you can take an existing estate and regenerate it to increase the density and amount of homes.
"Alternatively, you can take an area that hasn't been touched for a long time and transform old industrial land into high-quality housing."
Estate regeneration
APM member Caroline Pillay is a senior partner at Airey Miller, a multidisciplinary property and construction consultancy. It specialises in advising and supporting the public and private sectors in the development and delivery of housing, and the management of estate regeneration schemes. Her company is currently working on housing regeneration projects with a number of London councils. One of these is Homes for Lambeth, a group of companies wholly owned by Lambeth Council, which is regenerating estates and building homes for low or council rents, and at market rent levels, with options for long tenancies and stable rents.
In the borough of Newham, Airey Miller is also working with a commercial residential developer, Red Door Ventures, which was established in 2014 to focus on developing high-quality residential homes for the London private rented sector. Red Door Ventures has already completed housing projects in Stratford, East Ham, Plaistow and Whitechapel in east London.
"We are working increasingly with local authorities on estate regeneration schemes," Pillay says. This marks a shift from working with private landlords or housing associations, as councils now act as developers for their own, independent housing projects. "It is a relatively new phenomenon – local authorities building their own houses."
Councils have been setting up their own wholly owned housing companies, or housing companies with partners as joint ventures. For the London Borough of Lambeth, which aims to regenerate six housing estates and deliver more than 6,000 homes over the next 10 years, Airey Miller acts as a strategic, technical and commercial advisor to the council's development vehicle. Pillay explains: "In Lambeth, the smaller sites are being used to help the larger sites stack up financially, either through disposal or their development to generate rental income that can then be used to cross-subsidise the development of the larger sites.
"The council has very good in-house personnel, with excellent skills in resident-facing activities and housing management services, which in turn has created excellent relationships with the local community. But they recognise there are limitations to their development management, commercial and technical skills. We bring these skills and expertise to support them. That can be providing a sense-checking service, or capacity building and training."
She emphasises that: "We are certainly not just there to act as consultants and walk away; we adopt a hands-on, nurturing approach. A big part of our remit is to deposit as much knowledge as we can with the council's in-house team. Airey Miller believes the collective expertise and resources are available within the industry to help solve this housing crisis, but we need to work with and support each other."
Does that help make the council teams responsible for housing generation sustainable? "Rome wasn't built in a day," says Pillay. "The council may have project managers who are freshly qualified in other areas and have experience in other council departments, but have never delivered projects of this scale. So, capacity building is a core component of our commission and something we have really invested in."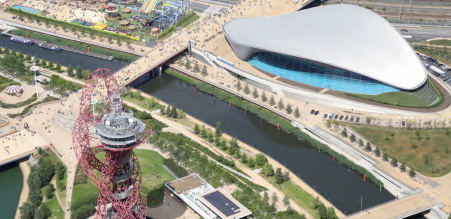 Super-hub
Housing is a key part of what is billed as the largest regeneration project in the UK, which is also taking place in London. This is the regeneration of Old Oak Common in the north-west of the city. The Mayor of London wants to transform this underused part of the capital into a new district featuring up to 24,000 new homes and 5,000 jobs at Old Oak.
There are also plans to build a 'super-hub' station that links HS2 and Crossrail by 2026. Park Royal – the site of the largest business park in London, occupying about 500 hectares – will be intensified, with an additional 10,000 jobs and 1,500 homes as part of the same scheme.
The project is being developed by the Old Oak and Park Royal Development Corporation (OPDC), the second mayoral development corporation to be formed in London. The first was the London Legacy Development Corporation, which continues to lead the post-Olympic Games regeneration of Stratford and east London.
Victoria Hills, speaking to Project just before stepping down as chief executive of OPDC, said Old Oak Common has a potential for regeneration comparable to Canary Wharf in the 1980s. The project's development corporation model is necessary because of the complexity of the Old Oak Common scheme, Hills says.
"The area straddles three London boroughs, so doesn't fit neatly into one administrative boundary. Developing the brownfield land and national transport infrastructure there is also a very complex undertaking."
The project will benefit from lessons learned from the regeneration of east London during and after the Olympic Games, she adds.
Hills says she was charged with establishing OPDC as director in September 2014: "My starting point was going to speak to the chairman of the Olympics legacy corporation, asking him what had worked, and what hadn't." That exchange influenced the development of OPDC's planning committee, board, skill sets, governance and composition of the project team. "We thought, 'Let's not reinvent the wheel here'."
Carroll agrees that Old Oak Common is "very exciting". The project has benefited from the Crossrail and HS2 transport links that will be a key part of it. London First is keen that Crossrail's successor now goes ahead. Carroll says: "If we also had Crossrail 2, we would be able to carry out a lot more regeneration along that route." Good transport links are critical to successful regeneration, she explains, along with effective community engagement, and access to schools, hospitals and doctors' surgeries.
London First has also welcomed the chancellor making £1.67bn available for housing to build 26,000 affordable homes in London. At least two-thirds of these homes are said to be for rent, including social rent.
"But fundamentally we need an awful lot more money for housing," says Carroll, "especially for the affordable homes that are required across London."
Pillay notes that she has been in the housing profession for more than 20 years, only to see "homelessness in London go, and then come back". She echoes Carroll's point about more public funding being made available to build housing stock: "Affordable housing would mean fewer people on the streets. But because of the rate of the rise of property values, it makes it difficult to develop financially viable cheaper schemes."
Why is new housing needed?
According to Trust for London, the capital's population has grown by 7.5 per cent in five years. By comparison, the UK population as a whole has grown by 3.7 per cent over this period. Inner London's population has increased by 300,000 since 2011 to 3.5 million, while outer London's has increased by 350,000 to 5.3 million. These numbers are projected to grow to 3.7 million and 5.6 million respectively by 2021.
London has 32 boroughs, plus the City of London. In 2015, Barnet and Croydon both had populations of 380,000. Kensington and Chelsea is the smallest borough, with a population of 160,000.
The population of Tower Hamlets is set to see the most rapid growth of all London boroughs between 2015 and 2021.
Crossrail depot opens its doors
Victoria Hills, formerly chief executive of Old Oak and Park Royal Development Corporation, says transport is the "most significant driver of regeneration. Just look at what Crossrail has done along the development of the line."
In fact, on the Old Oak Common site, the development of the Elizabeth line has already seen the first pieces of new infrastructure commissioned. A major project is the Crossrail train depot.
Crossrail assistant project manager Edward Hamlyn has been working on the depot project since 2012. "Crossrail is one of the biggest, most high-profile metro jobs in the world," he says. "It's great to see it coming to fruition."
The modern, purpose-built depot at Old Oak Common features 33 sidings, nine maintenance roads, mess rooms and two simulators used to train Crossrail drivers. The depot houses 33 trains and will maintain the entire Crossrail train fleet of 67 trains, as well as providing facilities for 180 Elizabeth line drivers.
The depot covers 14 hectares of the Old Oak Common site. It is thought to be the only train depot in the country to enjoy a 'very good' Building Research Establishment Environmental Assessment Method sustainability rating thanks to its use of solar photovoltaic panels to provide electricity, ground source heat pumps, underfloor heating, and solar thermal systems to supply heat and hot water.
It will take 10 years for the first housing schemes to be delivered at Old Oak Common, north of the Grand Union Canal. Old Oak Common station – linking Crossrail, HS2 and the Great Western main line – will also be in place by then, and commercial development around the station will be emerging. Links to Heathrow, and potentially to the Chiltern line and Marylebone, will make the site one of the most connected on the UK rail network. Hills says: "The development helps London, and it will also help to rebalance the economy, because we are providing proximity to the Midlands and the North via HS2.
"You will eventually see that this is a brilliant project."
Ben Hargreaves is editor of Project