Change programme: Award-winning Heathrow Terminal 3 baggage system
As one of the world's busiest transport hubs, Heathrow Airport involves some staggering numbers. Every day an average of 205,400 passengers arrive and depart through its terminals – a total of 75 million people in 2015. Serving 185 destinations in 84 countries, Heathrow sees an average of 1,293 air transport movements every day.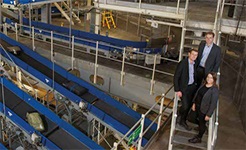 Supporting its aim to be the best-rated airport service in the world, Heathrow has invested £11bn over the past 10 years in building and opening Terminal 5 and Terminal 2, with significant upgrades to the other terminals. Part of this major transformation programme involved the implementation of the Heathrow-wide integrated baggage-handling system, capable of handling  110 million bags a year. With one third of passengers taking connecting flights, the majority of which are between Terminal 5 and Terminal 3, it is critical to ensure that connections are easy and fast, and that everyone's bags can keep pace.

A £500m solution
The Heathrow team responsible for the Terminal 3 Integrated Baggage (T3IB) system faced a challenge comparable with building the Eiffel Tower in the middle of Piccadilly Circus, according to one team member. A £500m project encompassing construction, technology and major business change, T3IB has delivered real and tangible results for passengers.

Fully integrated into Terminal 3's operations in July, the unique, state-of-the-art vertical facility uses a mix of proven and cutting-edge technology to manage all the terminal's baggage under one roof. What's more, the integration of facilities between terminals means that a connecting bag from Terminal 3 now only takes 10 minutes to go through the tunnel to Terminal 5.

Project delivery director Darren Colderwood describes T3IB as "the most challenging thing I have ever done, and the most rewarding thing I have ever done".

Having previously been involved in an earlier phase of T3IB, Darren returned to the project as director in 2014, following a reset of the budget and leadership team. The 15-strong core senior team was supported by a supply chain and client team of around 80 people, together with a site presence of up to 400 at the project's peak.
A different philosophy
From the start, one of the key aspects for Darren and his team to get right was managing the mindset of multiple global stakeholders – from airlines, baggage handlers and airport security to those responsible for legal, safety and commercial matters.


"This was a huge change programme; we were moving to a new way of working that is different to any other airport," says Darren. "The philosophy behind the way the new system works, and how the operational team interfaces with it, is completely different; it required a comprehensive training programme to be put in place."
In fact, this was so fundamental to success that a dedicated T3IB training suite was built.

T3IB came in the form of a robotic, automated system installed at the heart of the new facility to ease the physical burden of loading the containers that store the luggage. "We created an automated warehouse racking system that stores close to 5,000 bags," explains Darren. Also new was what he describes as a "compressed flight build" – in essence, the process for loading containers: "In a normal system, the baggage-holding facility would be open for three hours for a long-haul flight. We were compressing that time window to one and a half hours. 
"The bags now sit and wait until you need them. Then, with 90 minutes to go before the flight, the operator puts the bags in the flight storage cans. The bags come when the operator calls them. In a conventional system, you have to stand around and wait for them."

Building upwards
Effective communication and engagement were vital. Change champions, mobile roadshows, regular newsletters and an animated brochure were just some of the tools used to secure stakeholder buy-in. A team of process integrators made up of subject-matter experts and key contacts for stakeholders helped the airlines and handlers understand the new processes.

"The more we engaged with the baggage-handling teams, the more they engaged with the concept," Darren says. "In fact, the guys had been working in a pretty challenging environment under the old system, so they appreciated that this new facility offers significantly improved conditions." 
Vigorous testing and proving of the system laid the groundwork for success. In addition, learning legacies from Heathrow's Terminal 5 led the team to deliver a phased transition for affected airlines and handlers lasting from March 2015 to June 2016.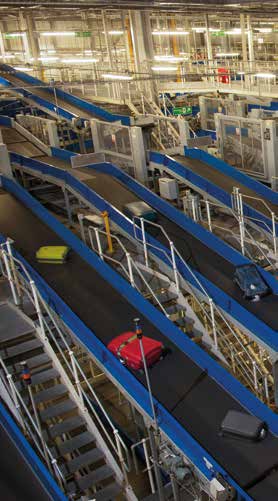 So, what have been the biggest challenges for the team? "Well, I would certainly think twice about building a baggage system vertically again," explains Darren. "It's a bit like building a car factory. You don't generally build those sorts of structures upwards, as they weigh a lot." But, he explains, "Heathrow is so space constrained that there was only one place it could go: a space surrounded on all four sides by live operations."

Another challenge was that the project was forever breaking new ground in terms of problems and solutions. "When you're building something that doesn't exist anywhere else, you're learning as you go along," Darren reflects.

He cites one particularly "hairy" problem that involved moving a 40m-long, steel-beamed linked bridge in the space of one night to avoid closing the existing baggage facility. "This operation required a huge amount of planning," says Darren. "We had to have the crane in position at close of business, and then we had just five hours to be done and dusted, otherwise we would have caused serious disruption. You can't just close the terminal when you need to get something done."

As for lessons learned? "At the start, the system should have been designed much more around the operational process," Darren explains. "Initially, the job was set up more like building a car park, where the budget allowances are quite tight. In reality, it was a technology project. We all learned a lot. It's all about getting the requirements crystal clear before starting."

The results speak for themselves: "The system is now operating at a fantastic performance level. Our bag performance figures are up. We are now achieving our lowest missed-bag rate at the airport ever." 


Looking back, he is immensely proud of the job: "The project had a tricky start, mainly due to the evolving scope that was borne out of the technical complexity and new processes. But, in 2014, we took a stand, rebuilt the team, replanned the launch and made a joint commitment with the supply chain to go live. We made an absolute promise we would hit the delivery date, and we did.

"It brought energy to the job, but also made it hard. Achieving that deadline was hugely important. The first day we went live was a big deal. It was a real buzz." 
---
*This article originally appeared in Project journal, Winter 2016.