Don't miss the latest edition of Project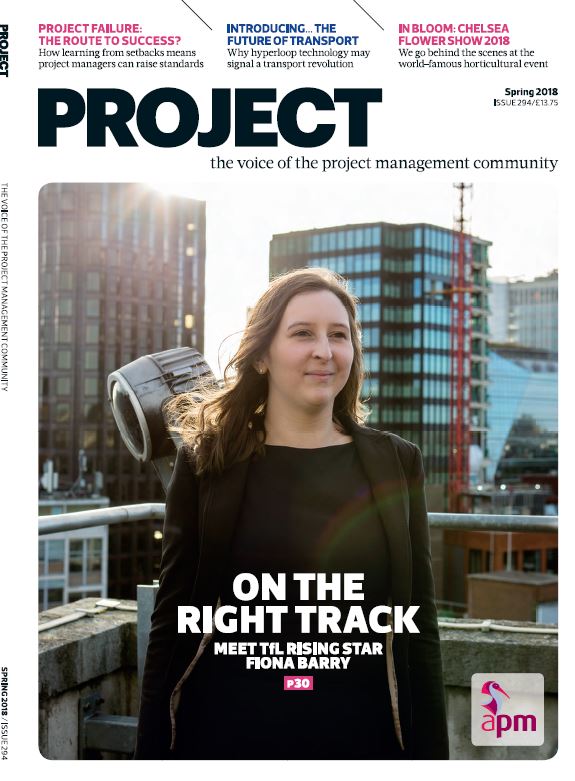 In the latest edition of Project, we hear from rising star Fiona Barry; watch out for your copy. 
Becoming part of a 24/7 mission to keep 1.3 bn people moving has meant a fast-learning curve for rising star Fiona Barry. She joined the Transport for London (TfL) graduate scheme in 2013. Now aged just 26, she's an award-winning project manager, working on some of the highest-profile projects in Europe.
Fiona tells Project why she values autonomy even though it can be daunting, how she's learned to influence people who complain, and where she sees her long-term future.
In this issue, we also explore how lessons learned – sometimes major ones – can help us drive up standards in our profession. Danny Trup, a project sponsor of the Thames Tideway Tunnel 'super sewer', reflects on past project experiences that are informing his approaches today.
Our special report focuses on the formidable complexities of project managing Britain's exit from the EU. We take an in-depth look at how the government can successfully execute what's been described as the "largest UK project that we may see in our lifetimes".
You will also find:
Comment: Tony Meggs on how to escape the Valley of Death.
Insight: The role of project management in meeting challenges in the pharmaceutical industry.
Interview: Meet the project team behind the world-famous Chelsea Flower Show.
Technology: What GDPR means for project managers.
Career: The value of an international mentoring relationship to both parties.
Plus
Best of the blogs: We look at extracts from some of the hottest topics debated byProject readers.
Viewpoint: How can government learn more from project delivery data?
As an APM member you will receive your free copy of Project journal. If you're not yet a member, join now.