Fifth SWWE Project Management Challenge Competition: Finals and Awards Night
On the evening of the 2 May 2019 at BAWA in Bristol, around 60 excited sponsors, customers, mentors and team members attended the fifth South Wales and West of England (SWWE) Project Management Challenge Finals and Awards Night with four down-selected teams competing for the winner's trophy.

At the end of the night after four very impressive presentations, the Winners trophy was awarded to Team Babcock who are based in Plymouth. Team Babcock delivered a project to their chosen charity Help For Heroes (H4H) at Plymouth Recovery Centre. H4H provide lifetime support for the Armed Forces community and their families. The team worked hard with their charity to help them to begin to improve organisational restructure, improved reporting and governance processes and restructuring community event activities. In turn, this will increasingly allow H4H to reduce meeting times, empower decision-making, increase communication and collaboration and improve role ownership. This impressive project has also instilled a major cultural shift being adopted by H4H staff.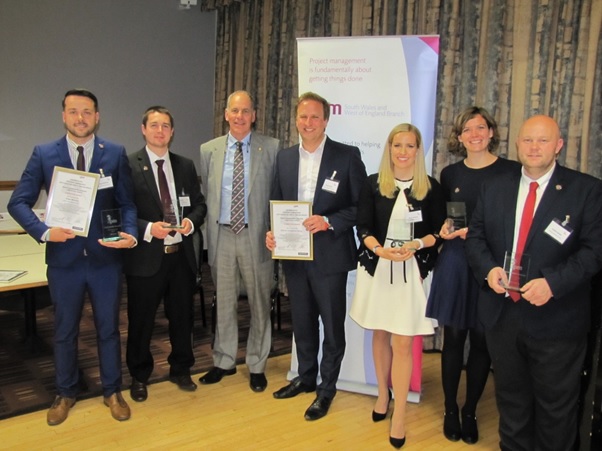 The overall Winners of the competition, Team Babcock, with their H4H customer and Babcock Sponsor, trophies and certificates.

The other Winners award of the evening went to the Turner and Townsend, Team Discover. They won the Best Storyboard award for delivering a project to their customer, Feeding Bristol (FB), that focused on aligning Feeding Bristol's mission of striving for zero hunger. In order to achieve this FB had partnered with FareShare where Team Discover would deliver a live inventory management system for the community pantry, including a plan for future sustainability.


The standard of presentations on the night was astonishing. All of the seven teams competing in this year's competition have obviously extremely hard and have gained lots of valuable experience and knowledge. All of the teams participating in the competition were asked to deliver outputs and benefits to deserving projects across the community and, importantly, were able to demonstrate and develop their own professional project management competences, understand critical success factors, develop personal qualities and learn from their mistakes, as well as get a taste of what it feels like to be part of an integrated team delivering a real project.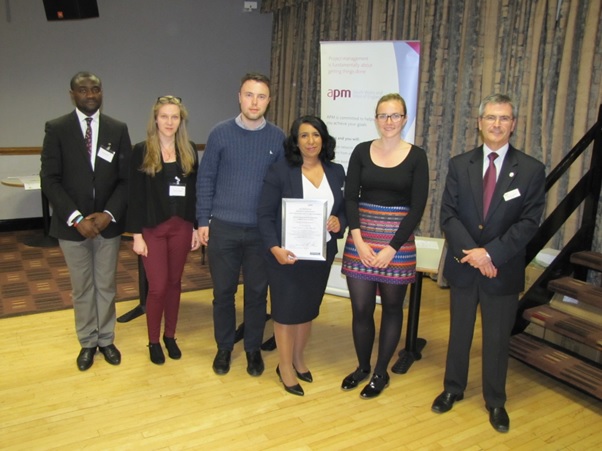 The Winners of the Best Storyboard competition, with their Customer and SWWE Branch Chair.
The other finalists and runners-up teams competing in the competition were; Team Atkins, working with Emmaus to produce a feasibility report that assessed the viability of extending the Stokes Croft building to include several small flats to support the Emmaus growing business need; Team Giving Wings, a combined team from AIRBUS and the University of the West of England (UWE) who worked with the charity fly2help, a small aviation charity in Gloucestershire, to improve their social media planning and strategy to ensure their limited
resources were utilised to maximum effect; Team Neptune, a combined team from AIRBUS and UWE who worked with the charity Ablaze to ensure that they complied with all GDPR regulations; Team Zenith, a Turner and Townsend team who worked with their Bristol based charity Deki to initiate and develop a process for better management of verification and monitoring field partners making micro loans in Africa; and Team Flying Whales, a combined team from AIRBUS and UWE who worked with their charity Bristol Zoological Society to streamline their current accident and near-miss reporting processes.
The Project Board consisting of leader Bruce Phillips, branch Chair Martin Gosden, South Wales chapter Chair Allan Reid, Abi Williams from Burges Salmon and Udonna Okeke from UWE managed three key assessment stages:
• Provision of a project plan in December 2018 that identified smart outputs and benefits to be delivered, associated resources, costs and key risks;
• Provision of a final report in March 2019 which demonstrated how the teams delivered the project outputs and benefits defined in the original project plan using a range of competences defined in the APM BoK; and
• The delivery of a 15 minutes presentation at the Awards and Finals Night.
Bruce Phillips, the SWWE branch committee member who managed the competition overall, said "The project board was unanimous in its praise for the significant effort shown by all entries in the SWWE branch's fifth and very successful PM Challenge competition. It is astonishing to see such a high standard from such young professionals and that their outputs are actually being consumed by very worthy causes indeed. Whilst winning the competition is 'icing on the cake' every member of every team is a winner as the competition is all about individual and collective learning and development. Every single member of each team should be justifiably proud of their achievements in delivering real benefit to the wider community and, equally as important, the development of their personal and professional competence for their future careers."

Bruce Phillips, APM SWWE branch committee member