Great showing for APM at European Academy of Management conference
Association for Project Management (APM) showcased its research to some of the world's leading business schools at a major international management conference.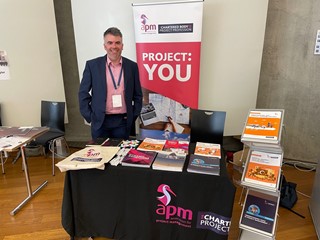 The European Academy of Management (EURAM) conference, held this year at Zurich School of Management and Law in Switzerland, is the largest management event in Europe.
Delegates from around the world attended to hear from academics and global thought leaders as they delivered presentations, workshops and awards at the first in-person event since the onset of the coronavirus pandemic.
The event programme was divided across multiple Strategic Interest Groups, including one on Project Organising. This was further divided across a number of 'tracks', which explored themes such as megaprojects, sustainability and digitalisation.
APM was represented at the event by Daniel Nicholls, Research Manager, following multiple requests from international higher education institutions for APM to attend. Daniel spoke with delegates about APM's research programme and presented an award for best reviewer of an academic paper to Jere Lehtinen of the University of Oulu, Finland.
Daniel said: "Prior to EURAM 2022, we were getting more and more requests from universities outside the UK for APM to be involved, and to better understand how APM could support global academics and Universities due to the reputation of our research.
"Events such as EURAM and the British Academy of Management (BAM) annual conference are important in helping to raise the profile of the project profession among major Universities in the UK and globally, promote awareness of APM as the chartered membership organisation for the project profession, and highlight the benefits for delegates of engaging with our research programme."
Other project organisations also attended the conference. Daniel commented that being able to network face-to-face (following two years of virtual events due to the pandemic) presented new opportunities for future collaborations.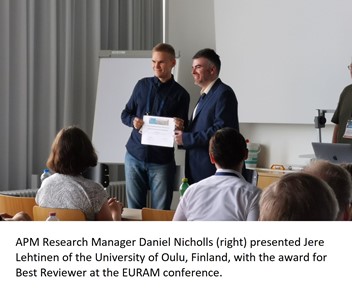 "It's good to able to build those networks and support current and future researchers," he said. "I was able to meet research teams from other project organisations and added dozens of names to APM's research newsletter mailing list to get involved in our research activity.
"There were a lot of positive comments. People were really interested to hear about everything we do and all the research we have. It presented a very interesting proposition to this particular audience. I hope to attend and support this work further at the 2023 EURAM conference in Dublin."
In the meantime, APM will be supporting the BAM and the Project Experiences SIG which is taking place at the University of Manchester in early autumn.