How does your salary compare? APM survey reveals all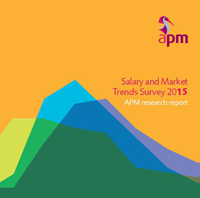 Research published today by APM opens the door to greater salary transparency for project, programme and portfolio managers.
The Salary and Market Trends Survey 2015 study of over 2,700 APM members and non-members is the largest stakeholder engagement exercise ever conducted by APM. It includes the views of professionals from across different pay grades and sectors – 90% of which are UK based.
APM research manager Daniel Nicholls commented: "We are delighted with the level of participation in what is our inaugural report and believe that this research will be of great interest to not only project professionals but also recruiters, employers and those considering a project management related career."
The findings reveal that on average project managers can expect to earn between £40,000-49,000pa. This figure is influenced by factors such as location, qualifications and professional membership.
Report sponsor Vince Hines from APM career development partner Wellingtone Project Management said: "The findings show that the most common range is between £40,000-£49,000, with the average salary of a project professional being £44,167 across all industries and locations.
"A closer look reveals that on average change managers (£48,875) earn more than project managers (£43,387); PMO managers (£52,530) earn more than change managers; programme managers earn even more (£57,000)."
For those looking to boost their earning potential it pays to be a member of a professional body. On average 70% of APM members earned more than £40,000, the report reveals.
Qualifications also have a bearing on final salary; with 44% holding a qualification such as APMP: The APM Project Management Qualification  earning up to £60,000 compared to 34% without.
For project contractors nearly half reported earning between £300-500 per day. Over three quarters said their average contract length was six months; only 8% had an average contact length of three months or less.
Market confidence across all sectors was high, with nearly a third of respondents expecting a pay rise in the next 12 months. Only 1% said they were likely to leave the profession as a result of current conditions.