Kick Start Your Project Management Career
The University of the West of England (UWE) hosted inspirational talks from members of the APM South Wales & West of England branch on 12 October 2017, including Stevie Gosling, the branch's diversity representative. Following these presentations, breakout sessions were facilitated with the aspiring project managers in attendance. The theme of the event was entitled "Kick-Start your Project Management Career" and was aimed at individuals seeking to embark on a career in project management.

In his welcoming address Paul Johnson, the SWWE newcomers representative, set the scene for the evening by explaining the nature and structure of the event along with the proposed agenda. He went on to point out that the branch is one of the most active in the APM covering a large geographical area in the South West with more than 3000 individual and 47 corporate members. The branch organises around 20 member events throughout the year suitable for all levels of experience. It continues to have extensive engagement with academia and corporate members alike providing many individuals with the opportunity to network with employers across many different sectors of industry.

Following Paul's introduction, the principal guest speaker for the evening was Stevie Gosling. Stevie works for Rolls-Royce (RR), and she gave a motivational and inspiring presentation based upon her own Project Management (PM) experiences; the benefits of a career in PM clearly shone through.

Stevie Gosling, a Programme Manager within RR Business Services, delivered a presentation that focussed upon her career in PM. Whilst undertaking her Masters in Automotive Engineering at the University of Warwick, Stevie undertook summer placements at Rolls-Royce and Porsche, developing a strong interest in PM in the process. She subsequently joined the Rolls-Royce Programme Management Graduate Scheme, and has c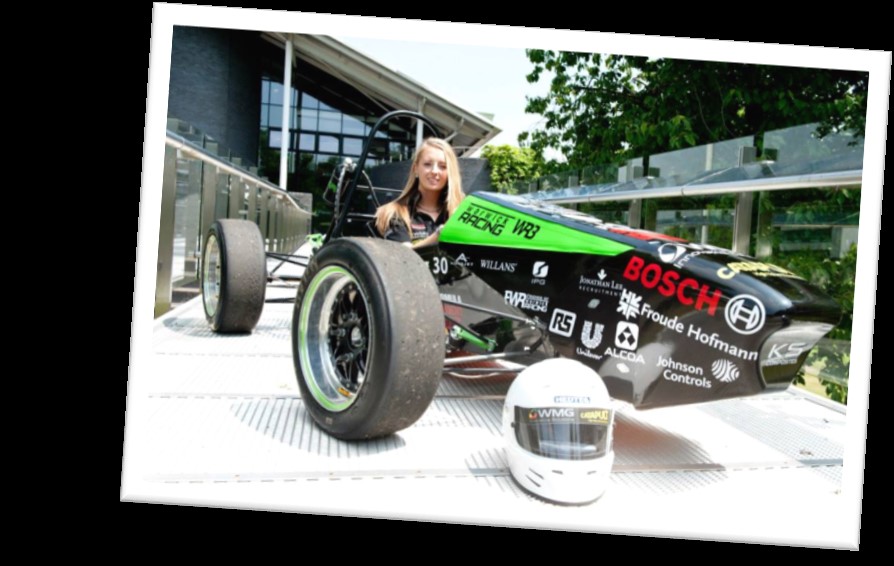 ombined her Automotive and PM skills to deliver Projects and Programmes for RR with great success throughout her RR career; Hercules C-130, AirTanker and Sea King are amongst the most notable. During her presentation, Stevie provided her insights into the most important aspects of PM based upon her experiences: Strategy, Marketing, Engineering, Finance, Plan, Products, Processes and People, and identified Problem Solving as the activity she found most enjoyable. Stevie finished off her presentation by claiming that she has far too much fun at work, and that this is all down to the variety and interest that her PM role offers her, both from a people and technical perspective.

After the presentations and some questions from the participants for Stevie, the Paul split the room into 4 groups to discuss the following topics:
Group 1: What makes a successful project manager - qualifications or experience?
Group 2: What three core 'personal' competences or attributes must I demonstrate to have a chance of success as a professional project manager?
Group 3: What does project success look like?
Group 4: What are the challenges for managing a project which is highly complex and technically challenging?
Following 20 minutes of exploring the questions posed, a spokesperson for each group presented the key points of their discussion to the entire group, prompting further discussion around the groups' findings. The keys themes to emerge were:
Group 1 (Qualifications or Experience): Group 1 saw 'experience' as the slightly more beneficial leading element on the basis that if you have experience you should have already addressed many of the characteristics and competences that a training environment would offer. However, it was acknowledged that the best PMs have strike a balance between experience and qualifications, and that this balance unique to the individual PM.
Group 2 (3 Key Personal Competencies): The group identified leadership, particularly the ability to make decisions and delegate, commitment and emotional intelligence as the three key 'personal' competencies required to become a successful Project Manager. The ability to think strategically combined with good managerial skills and a good level of self-awareness were also identified as being important attributes of a successful PM.
Group 3 (Project Success): Group 3 identified that the traditional Time, Cost and Quality metrics were important in defining success. However, they also identified that satisfying stakeholders, delivering benefits, personal development and enhanced (business) reputation as being as equally as important.
Group 4 (Complex and Technically Challenging): The conclusion drawn by the group was that understanding the requirement, managing stakeholder expectations and dealing with higher levels of uncertainty are the key challenges for a PM who is managing a highly complex and technically challenging project.
The evening concluded, and members of the APM SWWE branch remaining behind to answer 1-2-1 questions with participants. Afterwards, it was felt that the drive to inspire a new generation of project managers within SWWE was well underway.

Paul Johnson
SWWE Newcomers Rep