Launch Night of the Fifth SWWE Project Management Challenge Competition
On the evening of the 25th October, around 50 excited sponsors, customers, mentors and team members attended the Launch Night of the fifth South Wales and West of England (SWWE) Project Management Challenge competition at Rolls-Royce in Filton, Bristol. Bruce Phillips, SWWE committee member and overall competition leader, explained the rules and guidelines of the competition, described the key activities (highlighted in the figure below) and made sure that all participants understood what is required to deliver their chosen projects.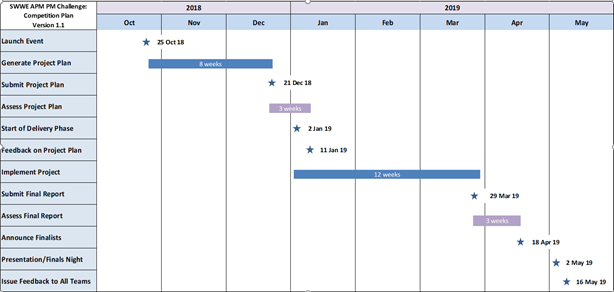 The key phases of the competition are outlined below:
• Provision of a project plan in December 2018 that identifies smart outputs and benefits to be delivered, associated resources, costs and key risks;
• Provision of a final report in March 2019 which demonstrates how the teams delivered the project outputs and benefits defined in the original project plan using a range of competences defined in the APM BoK; and
• The delivery of a 15 minutes presentation at the Awards and Finals Night in May 2019.

Whilst winning the competition is clearly a bonus, real success must focus on the development of the core technical and behavioural project management competences for all individual team members. In line with previous competition themes, all participating teams have been asked to deliver outputs and benefits to deserving or charitable organisations across our local communities. The initial response looks very encouraging with a number of corporates explaining what their projects are likely to be this year.
The competition will be managed by the project board consisting of project management experts from APM, industry and academia. Thinking about participating this year or do you want some advice in preparation for next year's competition? Please feel free to contact Bruce Phillips on Bruce.Phillips@Jacobs.com or call on 07377635763 for a friendly chat.  
Good luck to all our teams participating in the competition this year and a very big thank you to Rolls-Royce for hosting the event!