Project data analytics: opportunities explored in new APM report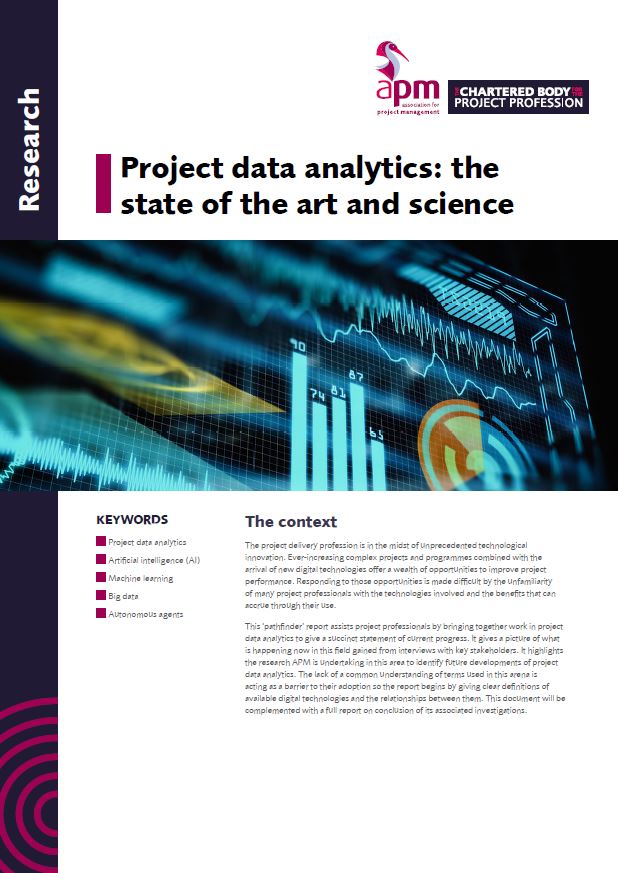 As projects become increasingly complex, a surge of technological innovation means there are also exciting opportunities to improve project performance – but practitioners must be prepared to capitalise.
Anticipating new digital technologies and associated opportunities will offer an important advantage. Project and programme professionals who can adapt to change will be able to incorporate new technology and practices for the benefit of project delivery. A good example of this is the field of data analytics; the use of past and current project data to enable effective decision-making.
Many organisations already use project data analytics in various ways, such as by collating data from various project tools into dashboard reports. However, there are also opportunities to use past data to predict future performance. Within organisations, this approach is being used at a very limited scale, presenting opportunities for expansion and even to use such 'predictive analytics' across multiple organisations.
As with any emerging opportunity, there are anticipated barriers. When it comes to using project data analytics, these include unfamiliarity with the terminology and technology, outdated attitudes to data sharing and poor quality data being gathered.
Our new pathfinder report, Project Data Analytics: the State of the Art and Science, provides a concise overview of project data analytics. It defines some of the key concepts and summarises what's happening now in this field.
The report also highlights the research and activity we're undertaking to identify future developments in project data analytics; work that is being extended through the creation of the Project Data Analytics Research Network.
Professor Naomi Brookes, professor of complex programme management at WMG, University of Warwick, is the author of the report. She is playing a leading role in coordinating the Network, commenting: "Project data analytics can transform the way in which projects are managed. However, the language of analytics is a turn-off for many busy project professionals. This report will be a useful starting point for people who are unfamiliar with project data analytics and want to plan their next step in benefitting from it."
Get involved
The Project Data Analytics Research Network plans to undertake a variety of research investigations in project data analytics and is interested in hearing from potential collaborators. For more information, contact Professor Naomi Brooks.
We've also formed a Data Advisory Group, in recognition of the importance of utilising data to support project delivery. The Group brings together partner organisations including professional bodies, government departments, funding providers and thought leaders in the field to explore how we can support the project profession on its data journey.
The Data Advisory Group will signpost developments, share learning and improve 'data literacy', so that individuals and organisations can better understand how they can use data more effectively. For more information, contact us.