Project meets a mentor-mentee pair from multinational property group Lendlease to find out what benefits they feel mentoring brings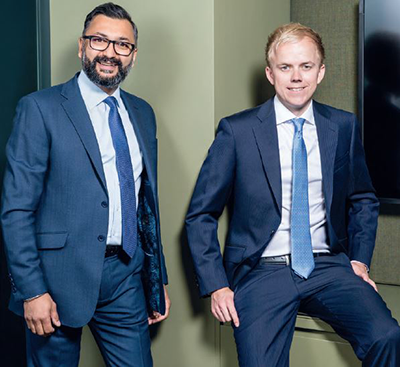 Peter Chana, chair of APM's London branch, is portfolio director and head of heritage, arts and education at multinational construction, property and infrastructure company Lendlease. Chana mentors project manager Will Rycroft, who began his career via a work placement scheme at the Houses of Parliament. Will is currently working on the refurbishment of Elizabeth Tower at the Palace of Westminster as part of his role.
Project: When Will started, did you have a mentoring scheme set up?
Peter: We have had a formal mentoring programme for a number of years now. Will joined us as an assistant project manager. I knew him thanks to our work with our client, the Parliamentary Estates Directorate. When Will was looking to complete his degree and progress his career, one of the options I outlined was joining Lendlease and completing his degree part time. We developed an individual career development plan.
Will: I met Peter in spring 2014. I had studied building surveying for two years and was lucky enough to get a year-long work placement at the Parliamentary Estates Directorate. I was working closely with Lendlease. I got a good feel for its organisational culture and values. I joined formally in September 2014.
Project: Did you know much about project management at that stage?
Will: Not compared to the surveying, architecture and engineering disciplines. It wasn't until I was involved in real-life projects that I got a taste for the specific discipline of project management.
Project: Peter, did you have previous experience of mentoring?
Peter: I oversee a team of around 35 project managers of differing levels of experience, from project directors to graduate-level project managers. As a leader, I am acutely aware that people like Will are the future. I'm comfortable using that language. It helps to empower our younger project managers. We want the right framework in place for our younger staff so they can flourish. By supporting Will, it helps me fulfil my core values. That is why I am involved with APM as well – it is important for me to give back to the profession and to help nurture talent.
Project: What are your core values?
Peter: My core values are professionalism, respect, integrity and honesty, combined with a good work ethic. Respect, for me, is about conducting yourself and leading in a way where all contribute and are valued, so only ask a question if you are prepared to listen and act on the answer.
Project: Research indicates that having a diverse team is important. Is that true in your experience?
Peter: Having a diverse team is important to me; it reflects our society. Helpfully, research indicates that diverse teams are more likely to be high-performing teams. At Lendlease, we actively establish diverse teams of different skill sets, genders and social backgrounds. We all think differently and have something to contribute; having that wide range of contributions is essential.
Project: What have been the biggest benefits of your mentoring relationship?
Will: Lendlease is a big company. I think the best thing about having a mentor is being able to understand your place in the business, your career trajectory, and the opportunities that are out there, and how to make the most of them. Ultimately, it's helping me understand where I want to be in the future and how I can get there. Continuing professional development through APM and other organisations is also important. I've signed up to development courses, and I've also been on the Lendlease Springboard training programme in Tasmania. The mentoring has been really important in terms of realising the value of those opportunities and knowing which are the right ones to pursue.
Peter: For me it is hugely rewarding seeing Will fulfil his potential. It is powerful and humbling to contribute to people's careers. At Lendlease, senior leaders in the business are keen to help nurture our talent, so to see someone like Will embrace opportunities and excel in his early career is wonderful.
Project: What will the future benefits be?
Peter: Will is now central to our organic growth strategy, so the younger managers who have joined our business in recent years look up to him. He provides 'buddy' support to our younger staff.
Project: Were you mentored when you first started in your career?
Peter: The short answer is 'no'. I started my career at Lendlease over 22 years ago. Before that I worked for eight years at another organisation, which kindly sponsored me through university. During my first work placement in London – at the Wellcome Building on Euston Road – clearly I was hugely excited and nervous. I turned up, and no one was expecting me. I was sat in a room and was told to look at the project drawings for what felt like a month! I remember sitting in that room and saying to myself that if I was ever in the fortunate position of being able to provide opportunities for graduates or younger staff, I would always plan it properly. I would make sure there was a framework in place to ensure that whoever came in was entirely valued.
Project: Do you think all trainee project managers could benefit from mentoring?
Will: Absolutely. Mentoring is hugely valuable. Having someone who can give you an independent perspective is really important. Mentoring is one of those things where you get out what you put in. And it's a two-way street.
Peter: Mentoring programmes are vital for businesses. We operate in a world where projects are becoming more complicated and larger in scale, and client expectations are increasing. Projects are delivered through our people. Mentoring provides a semi-formal arrangement to discuss options and concerns. Listen first and don't force mentees down specific routes; understand where support is needed and coach staff.
Project: How is your relationship continuing to develop today?
Peter: Will is now on our talent programme: we let people like him know they are important to the future of the business because it helps empower them. Will is providing day-to-day leadership on a hugely iconic and complicated project, and we speak regularly. The relationship has changed slightly, because he now has a clearly defined path for the next few years. From my perspective, Will is aware that he can contact me whenever he needs and I ensure I make myself available when he does.
Will: Our relationship is more strategic now and not necessarily concerned with solving day-to-day project problems. Peter is always available on the other end of the phone if I have a query, such as an issue with a stakeholder or a career development question. We have conversations all the time and I hope the mentoring relationship continues.