Research collaborations
Research collaborations seek to bring together like-minded individuals and organisations to develop and generate innovative research that supports the needs of practice whilst helping to promote a profession built around learning and collaboration.
FEATURED COLLABORATIONS
Project X
Project X is a major infrastructure research collaboration between UK universities, the Cabinet Office and Infrastructure and Projects Authority (IPA) and professional bodies such as APM amongst other partners.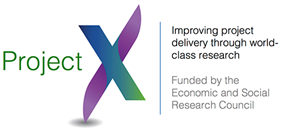 The project aims to enhance the capability and reputation of the UK government in the execution of major programmes and projects through the promotion of world-class research and evidence based thinking.
OTHER COLLABORATIONS
Responsible Project Management
This collaboration between Bournemouth and Portsmouth University's, the Association of Sustainability Practitioners and APM explores the idea that managing projects responsibly will require new knowledge, skills and capabilities. Future research and education will need to focus on developing practitioners' mindset, mental models and competencies. 
PAST COLLABORATIONS
Future of Project Management
Partnership and collaboration between Arup, The Bartlett School of Construction and Project Management at UCL, and the Association for Project Management (APM), with crowd-sourced inputs from the global project management community. It is a compilation of best practice, emerging trends, and forward thinking, an interactive site for debate about change in the project management profession, and a roadmap for future academic and professional research.
Research Events Supported by APM
APM's Research programmes supports research events and conferences which seek to advance our knowledge of projects and project management. By supporting partner events and conferences such as the below we aim to help bridge the gap between theory and practice by disseminating cutting-edge research from academia to industry.
In 2020 we are pleased to support the following research events and conferences:
APM Research Symposium Series
The Research Symposium Series provides a platform for academics to share the latest research in the field produced both by APM and beyond, giving practitioners the opportunity to participate in and shape research and to enable students to learn of the latest developments and to get feedback on their dissertation and hear about projects in practice.
We will add any links to future symposium events here but if you are interested in setting up a research event with APM please contact us using the form below.