BoK7: Crafting the APM Body of Knowledge
It's now a month since the latest version of the proposed structure for APM Body of Knowledge (BoK), 7th edition was made available for comment – thank you to those who have been in touch using yourviews@apm.org.uk.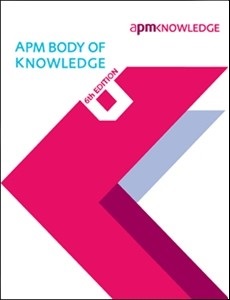 The writing team have been busy through July and August doing extended storyboards for each topic in the structure and going through a 'within writing team' review of these. This work culminated on 22 August when we agreed a final proposed structure and set of detailed storyboards for each topic that we will consult on with stakeholders. More on that another time.
One of the questions we've been asked is about terminology/definitions and the glossary for the 7th edition of the Body of Knowledge.
APM have made it clear that, as the foundational document for APM Knowledge, the BoK must contain a glossary that lays out the APM position on key terms. To achieve this, we are starting from the glossary in the APM Body of Knowledge 6th edition and updating this as necessary. Many terms will be unchanged, others slightly amended. Some terms will disappear and still more will be introduced for the first time as this Body of Knowledge fully embraces aspects of project-based working such as iterative life cycles, business change and the organisational context for the first time. Other definitions will exist in other APM documents for other purposes, for example, the Body of Knowledge will not define every term necessary to pass the APM Project Management Qualification and guides written by APM's Specific Interest Groups will have many more terms included - but the BoK glossary is intended to be the foundation – to be built from, not contradicted. To that end we are working hard to ensure the best alignment possible with what exists already.
Having said all of this, and in line with the article that Professor Darren Dalcher and I wrote for the summer edition of Project Journal; we do not see the BoK as being an exercise in defining things in a 'black and white' way, so much as describing 21st century management of projects, programmes and portfolios, recognising the many 'it depends' aspects of our profession. To re-use a quote from that article in Project:
What we intend to craft is a Body of Knowledge that derives from a belief that a Chartered Profession does not require black and white 'rules' that are made to be broken. Rather it needs reflective professionals who can think about and devise ways to navigate a messy context for projects, programmes and portfolios in a more nuanced, less prescriptive way – acknowledging that our rationality is bounded and our ability to predict with certainty is largely a delusion.
If we are able to help people make sense of their practice, using tried and tested ideas within an adaptable approach that embraces emergency and avoids over-simplified prescriptions, then we'll be happy with our work.